by WALDEN BELLO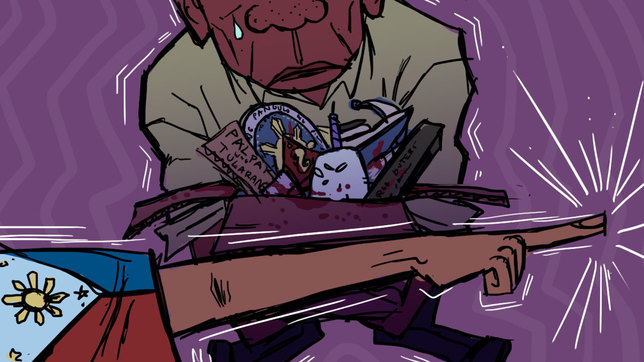 'When ordinary people…start to register serious doubts about the performance of the administration, that is a sign that it may not be light that is at the end of the tunnel that awaits it, but a crash'
No one expects Rodrigo Duterte to be another Winston Churchill, rallying the country in the face of a savage pandemic that, like the bombs falling on London during the Second World War, has dealt a terrible, swift death to unsuspecting friends and loved ones.
But the country certainly expects a president who does not project the image of a deer – eyes frozen by the headlights of an oncoming car – in the brief addresses he gives the nation. And over the last week, the nation has been deprived even of the chance to hear that paralyzed deer of a president, as he seems to have gone into hiding.
Roque, spinner of fairy tales
What leadership is provided by Malacañang comes from the presidential spokesperson, Harry Roque, a figure that, no matter how hard he tries, elicits disdain and distrust, with his answers coming across like those of glib salesman selling miracle cures. How can anyone believe a guy that, just a few weeks ago, was defending the administration's record in dealing with COVID-19 as "excellent?" Bereft of any guidance from Duterte or anybody else in the cabinet, Roque has been left free to concoct lies and fairy tales in press briefings that now border on the surreal.
While it is true that throughout Southeast Asia, COVID-19 cases are surging, the Philippines has, by far, had the worst performance in containing the disease since the latest surge began in the first week of March, eclipsing former leader Indonesia. Since the beginning of the pandemic early in 2020, the Philippines has registered 14,744 deaths, Myanmar 3,206, Malaysia 1,321, Thailand 97, Vietnam 35, Singapore 30, Cambodia 39, and Brunei 3.
With the national vaccine program in tatters, trust in the enhanced community quarantine (ECQ) for the "NCR Plus" bubble eroded by conflicting voices within the administration, and surges in infections and deaths reaching record levels by the day, the country has been left with the cold truth that as, Vice President Leni Robredo has put it, "Walang tumitimon," or "Nobody's steering the ship." Robredo, in fact, has tried to step into the vacuum, providing a leadership that is rich in terms of emotional empathy but extremely limited in terms of what resources her office can muster. Not surprisingly, the Malacanang troll machine has gone after her with increasingly desperate insults that are recycled within an echo chamber that is rapidly getting smaller.
Desperate troll machine
I had a personal experience with how desperate Duterte's propagandists are getting. This was when the Director General of the government's Philippine Information Agency used my Facebook post with a photo of me being inoculated with the AstraZeneca vaccine to show how, as they put it, "DUTERTE SERVES EVERYONE, NOT ONLY ONE…As you all know, Ex-Partylist Congressman Walden Bello is one of the staunchest critics of this administration…THIS IS PROOF THAT PRESIDENT DUTERTE KNOWS NO POLITICAL COLORS."
A year ago, the administration might have gotten away with such shenanigans, but not today, when the virus is rolling through the population in such a devastating manner that more and more people not only know individuals who've been infected but friends and dear ones whose lives have been prematurely snuffed out. COVID-19-caused death is no longer a a stranger to many of us, and nothing can remove the scales from one's eyes more effectively than death caused in great part by government incompetence.
LINKS for more