by B. R. GOWANI
China was embroiled in a decades long civil war, fought intermittently
the nationalists and the communists were the actors
the Chinese were also fighting the Second Sino-Japanese War (1937-1945)
Japan was the aggressor and committed the most heinous war crimes
(the First Sino-Japanese War was fought in 1894-1895)
nationalist Chiang Kai-Shek escaped to Taiwan by the end of 1949
(back in January, he had resigned his post as China's president)
he stole and took $200 million of gold and US dollars with him
in Taiwan (formerly Formosa), a tiny island, Kai-Shek became the president
Kai-Shek also claimed sovereignty over the mainland China
his VP Li Zongren became president of mainland China
Zongren was not happy about Chiang's stealing
his and Kai-Shek's supporters were at odd for some time
soon, Zongren and the nationalist forces lost the civil war
the Chinese Communist Party, under Mao, emerged as the victor
Mao Zedong was the new leader of PRC (People's Republic of China)
Kai-Shek was hoping that one day he'll ruler over Taiwan and China
i..e., Taiwan (ROC, an island) and China (PRC, the mainland)
US supported Kai-Shek also held on to the United Nations China seat
which also had a veto power, along with USSR, US, UK, & France
the US recognized tiny Taiwan as the legitimate government of China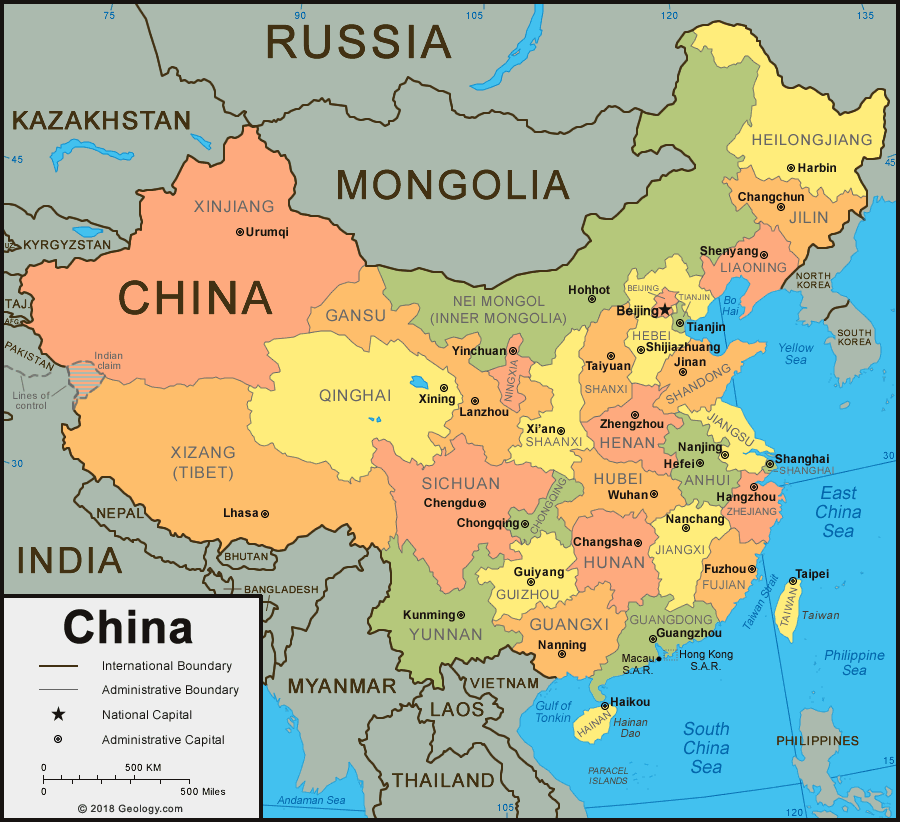 so the mainland China was without the United Nations seat
till October 1971, when the US allowed mainland China to enter the UN
in July 1971, Nixon's secretary of state Kissinger secretly visited China
next year anti-communist President Nixon visited China & met Mao
the US had geostrategic and trade reasons behind relations with China
(US businesses viewed China as a huge market)
in 1979, Carter government established diplomatic relations with PRC
the Shanghai Communique, issued at the conclusion of Nixon visit:
the Chinese side:
The Taiwan question is the crucial question obstructing the normalization of relations between China and the United States; the Government of the People's Republic of China is the sole legal government of China; Taiwan is a province of China which has long been returned to the motherland; the liberation of Taiwan is China's internal affair in which no other country has the right to interfere; and all US forces and military installations must be withdrawn from Taiwan. The Chinese Government firmly opposes any activities which aim at the creation of "one China, one Taiwan", "one China, two governments", "two Chinas", an "independent Taiwan" or advocate that "the status of Taiwan remains to be determined."
the United States side:
The United States acknowledges that all Chinese on either side of the Taiwan Strait maintain there is but one China and that Taiwan is a part of China. The United States Government does not challenge that position. It reaffirms its interest in a peaceful settlement of the Taiwan question by the Chinese themselves.
the above position has been maintained by subsequent US governments
of course, all of them carried on with varying interpretations
the important issue: the relative peace between China and the US survived
China has allowed Taiwan to carry on its system
Taiwan's 2021 exports to China & Hong Kong amounted to $188.91 billion
that is, 22% share of the total Taiwan exports
whereas Taiwan exported only 10% to the US, $65.7 billion
Nancy Pelosi, a satanic character, decided to visit Taiwan
Pelosi's reasoning in her Washington Post opinion piece:
"Indeed, we take this trip at a time when the world faces a choice between autocracy and democracy. As Russia wages its premeditated, illegal war against Ukraine, killing thousands of innocents — even children — it is essential that America and our allies make clear that we never give in to autocrats."
at least, the US is not a real democracy but a capitalists' run facade
about Russia's war, the US could have been prevented & could still stop
but the US goal is to "bleed" Russia at the expense of Ukrainian lives
the same thing could happen if China attacks Taiwan
the US would not directly fight China; it could result in nuclear war
so it would supply arms & ammunition to Taiwan, like it does to Ukraine
who will suffer the consequences in death and destruction?
Taiwanese people
China absolutely opposed Pelosi's visit to Taiwan
China's President XI Jinping had warned US President Joe Biden
"China firmly opposes separatist moves toward "Taiwan independence" and interference by external forces, and never allows any room for "Taiwan independence" forces in whatever form. The position of the Chinese government and people on the Taiwan question is consistent, and resolutely safeguarding China's national sovereignty and territorial integrity is the firm will of the more than 1.4 billion Chinese people. The public opinion cannot be defied. Those who play with fire will perish by it. It is hoped that the US will be clear-eyed about this."
Biden's response when asked about Pelosi visit:
"Well, I think that the military thinks it's not a good idea right now."
Biden doesn't say what he thinks, which means it's alright for Pelosi to visit
in May, Biden said the US would defend Taiwan by using force
last year in October he had expressed the same view
the long US hegemony has blurred the logical power of its leaders
Pelosi forgets that this in not 1990s that she would unfurl a banner in China
"To those who died for democracy in China."
people in the US don't have to die for democracy
they're just killed by the police for being not white
once Pelosi left Taiwan, China started live-fire drill surrounding the island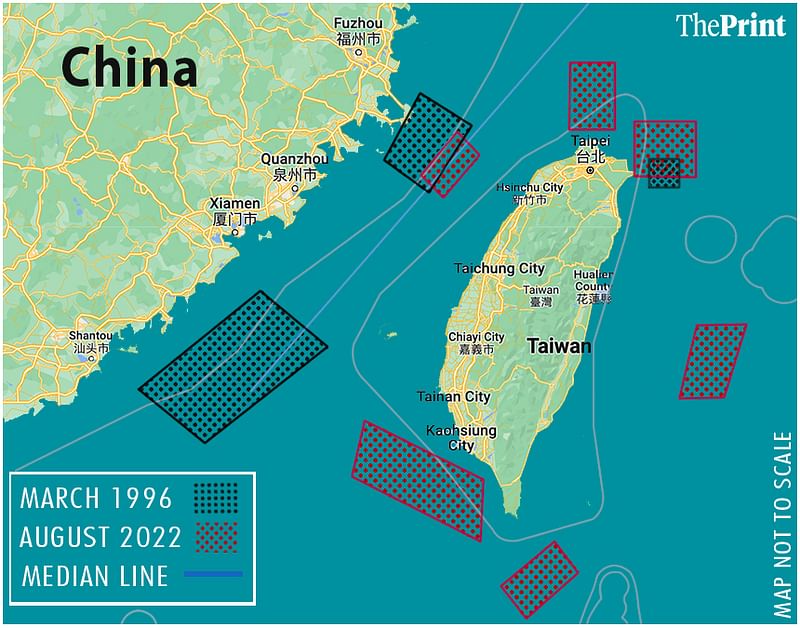 the United States DNA lacks the peace ingredient
China announced that it will "suspend the China-US climate change talks"
it has also cancelled many defense meetings with the US
one little mistake on part of US, China, or Russia could blow up our globe
82-year-old Pelosi has lived her life lavishly and so doesn't give a damn
Pelosi's ego is more important than the survival of human life on earth
B. R. Gowani can be reached at brgowani@hotmail.com