by B. R. GOWANI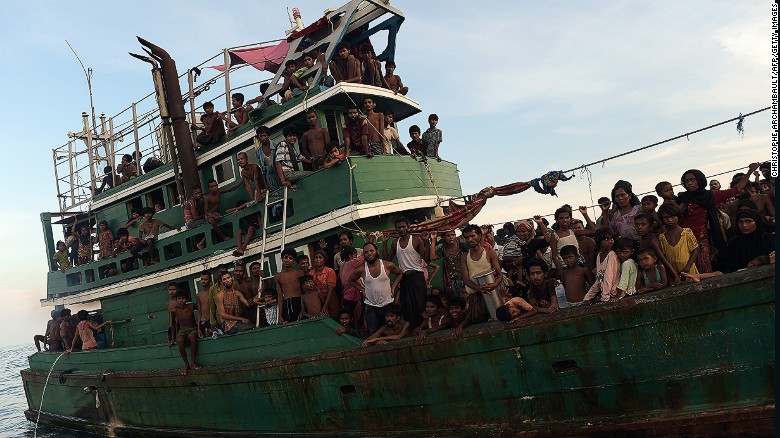 Migrants from Myanmar (Rohingya Muslims) and Bangladesh looking for refuge. PHOTO/CNN
For many months, Muslim migrants from Myanmar (that is, Rohingyas) and Bangladesh have been drifting around in rickety boats. Some of them have succeeded in entering Malaysia and Indonesia. Nobody wants them. The Buddhist nation of Myanmar refuses to accept Rohingya Muslims as citizens, despite the fact they and their forefathers have been living in that country for decades, and in many cases for centuries.
The custodian of Islam's holy places, the Saudi Arabian King, has not opened the door of the place where Islam was born for these Muslim migrants. Nothing to complain about. If the Saudi King were to invite these wretched people, very soon we would have seen thousands of more Wahabbi terrorists walking on this planet.
Pakistan couldn't invite these migrants to make it their home because for extending invitation you need a head and Pakistan, for quite some time now, is a headless body – as if beheaded by its own destructive policies. Though on surface, it may seem as if the military is in control but it is not in total control. Relative to civilian government, it is strong but internally it is divided between secular and Islamist groups.
It doesn't mean the world is devoid of caring Muslims. One of them is His Excellency President Professor Dr. Al-Haji Yahya Jammeh of Gambia. Yes, His Excellency has shown his willingness to take all the refugees. He said:
"As human beings, more so fellow Muslims, it is a sacred duty to help alleviate the untold hardships and sufferings fellow human beings are confronted with."
He has appealed to the international community to provide Gambia with medicine, bedding, tents, and other necessary things so that it could set up
"habitable camps with decent sanitary conditions."
It was in 1994 that Jammeh came to power after overthrowing Dawda Jawara's government and gave a word that this is a
President Barack Obama and First Lady Michelle Obama greet His Excellency Yahya A.J.J. Jammeh, President of the Republic of The Gambia, and Mrs. Zineb Jammeh, in the Blue Room during a U.S.-Africa Leaders Summit dinner at the White House, Aug. 5, 2014 PHOTO/Wikimedia Commons
After 21 years in power, his coup is still making many differences. One of them is that his own people are fleeing Gambia by trying to cross the Mediterranean Sea en route to Europe. And many of them have died. Well, every tyrant has an excuse and Jammeh has one too.
"If these people are true Muslims … they should equally believe that their sons and daughters could have made it at home if they were ready to invest and work."
Invest and work in a country whose President believes it is being hurt by the witches? To get rid of the witches, the President's goons rounded up dozens of villagers and made them drink a foul-smelling concoction. It didn't do any harm to the non-existent witches but it did kill many wretched villagers.
He is also famous for jailing his opponents and in some instances executing them. This bogot recently threatened Gambia's gay community:
"If you do it [in Gambia] I will slit your throat." "if you are a man and want to marry another man in this country and we catch you, no one will ever set eyes on you again, and no white person can do anything about it."
So it would be better for the migrants to stay on the seas rather than becoming co-patriots of Jammeh because that would result in two things: They'll be forced to drink life-extinguishing mixture and those not dying because of the drink will have to find the way to the Mediterranean Sea.
And what is Jammeh going to do with the things he has asked the world to donate to settle these migrants? He and his goons will sell the donated stuff and share the profit.
Last year, two idiots (Gambian born US citizens), Papa Faal and Cherno Njie, tried to overthrow Jammeh, an idiot too, while he was out of country. It was an unorganized and unplanned coup attempt. Nothing happened. Jammeh is in power while Faal and Njie are in US jail because the coup was plotted against a nation "with whom the United States is at peace." And which countries deserve peace? Those who listen to the US dictates.
By the way, Jammeh was trained in the United States. In 1994, he attended a military police training course at Fort McClellan, Alabama.
B. R. Gowani can be reached at brgowani@hotmail.com