by EVE WARBURTON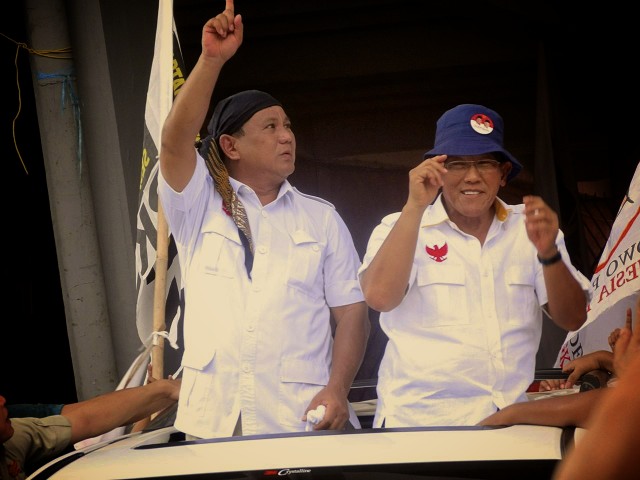 Presidential candidate, Prabowo Subianto, and Golkar Chairman Aburizal Bakrie campaigning in Senayan- Mietzner
What are the institutional mechanisms that make these (often illicit) transactions an ongoing feature of Indonesian politics? More broadly, what are the consequences of increasing business-state overlap for public policy, both good and bad? This special edition of Inside Indonesia goes some way toward addressing these questions. The articles investigate the connections between public office and private capital in contemporary Indonesia, with a view to understanding the institutional landscapes that exacerbate, or limit, predatory politico-business alliances.
The edition opens with a timely economic overview from Hal Hill, a long-time observer of Indonesia's political economy. A welcome change from the many negative characterisations of Indonesia's corrupt government, Hill sketches out the remarkable economic progress the country has made over the past decade. Hill emphasises that, against the odds, economic policy makers have in many instances avoided political influence and put Indonesia on a stable path of economic growth. But he also highlights Indonesia's pronounced and worsening inequality, arguing that it leaves the door open to populist appeals and politicised policy interventions. On the eve of Indonesia's presidential election, Hill lays out five challenges for a new administration, including reduction of fuel subsidies and reform of the bureaucracy. He does not consider either Prabowo or Jokowi a 'reform champion' when it comes to economic policy, but is hopeful that the victor will surround himself with a 'professional' and experienced cabinet.
Eve Warburton's article shifts gears and turns our focus to Indonesia's political landscape. Warburton maps out the varied ways in which democratic institutions have become sources of capital generation for state officials and their business partners – or for entrepreneurs that have entered office directly. Collusive state-business alliances are motivated partly by personal enrichment, but also by how expensive it is to take part in Indonesia's democracy. The business transactions that now feature so heavily in national and regional politics can have serious consequences for social policy and economic development, and for the quality of democratic institutions more generally.
Ward Berenschot and Darmawan Purba report on the recent gubernatorial elections in Lampung Province, where a single company dominates the local political economy. They describe how Sugar Group Companies (SGC) bankrolled one of their own company insiders to run for governor. Companies like SGC often claim they are compelled to cultivate political allies because they must face Indonesia's notoriously unpredictable rules and corrupt rent seeking from state officials. But the authors make a powerful case that these business-state pacts are self-reinforcing, and only perpetuate regulatory uncertainty. Berenschot and Purba propose that enforcing transparency around campaign financing would help limit collusion on the scale witnessed in Lampung.
Teri Caraway and Michele Ford's article provides insight into how local governments have become sites of contestation between labour and business. Wage disputes motivate both sides to lobby local government officials. Businesses use their influence behind closed doors. But, as the authors demonstrate with a case from Bekasi, during election season labour unions sometimes posses significant bargaining power, as political candidates try to win their support and leverage union networks.
Inside Indonesia for more