by WILLIAM TROLLINGER
These days, the term "fundamentalism" is often associated with a militant form of Islam.
But the original fundamentalist movement was actually Christian. And it was born in the United States a century ago this year.
Protestant fundamentalism is still very much alive. And, as Susan Trollinger and I discuss in our 2016 book, it has fueled today's culture war over gender, sexual orientation, science and American religious identity.
Roots of Fundamentalism
Christian fundamentalism has roots in the 19th century, when Protestants were confronted by two challenges to traditional understandings of the Bible.
Throughout the century, scholars increasingly evaluated the Bible as a historical text. In the process they raised questions about its divine origins, given its seeming inconsistencies and errors.
In addition, Charles Darwin's 1859 book "On the Origin of Species" – which laid out the theory of evolution by natural selection – raised profound questions about the Genesis account of creation.
Many American Protestants easily squared their Christian faith with these ideas. Others were horrified.
Conservative theologians responded by developing the doctrine of biblical inerrancy. Inerrancy asserts that the Bible is errorless and factually accurate in everything it says – including about science.
This doctrine became the theological touchstone of fundamentalism. Alongside inerrancy emerged a system of ideas, called apocalyptic or "dispensational premillennialism."
Adherents of these ideas hold that reading the Bible literally – particularly the Book of Revelation – reveals that history will end soon with a ghastly apocalypse.
All those who are not true Christians will be slaughtered. In the wake of this violence, Christ will establish God's millennial kingdom on Earth.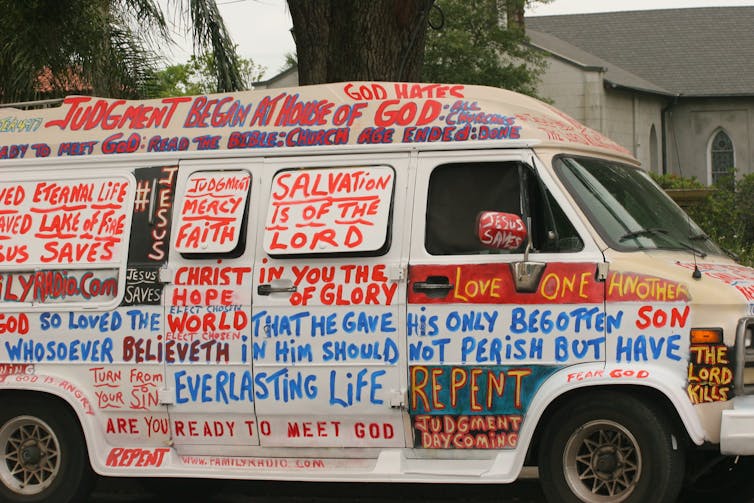 Setting the stage
A series of Bible and prophecy conferences spread these ideas to thousands of Protestants across the United States in the late 19th century.
But two early 20th-century publications were particularly key to their dissemination.
The first was author Cyrus Scofield's 1909 Reference Bible. Scofield's Bible included an overwhelming set of footnotes emphasizing that the errorless Bible predicts a violent end of history which only true Christians will survive.
The second was "The Fundamentals," 12 volumes published between 1910 and 1915 which made the case for biblical inerrancy while simultaneously attacking socialism and affirming capitalism.
"The Fundamentals" provided the name of the future religious movement. But there was not yet a fundamentalist movement.
That came after World War I.
The Conversation for more