AL JAZEERA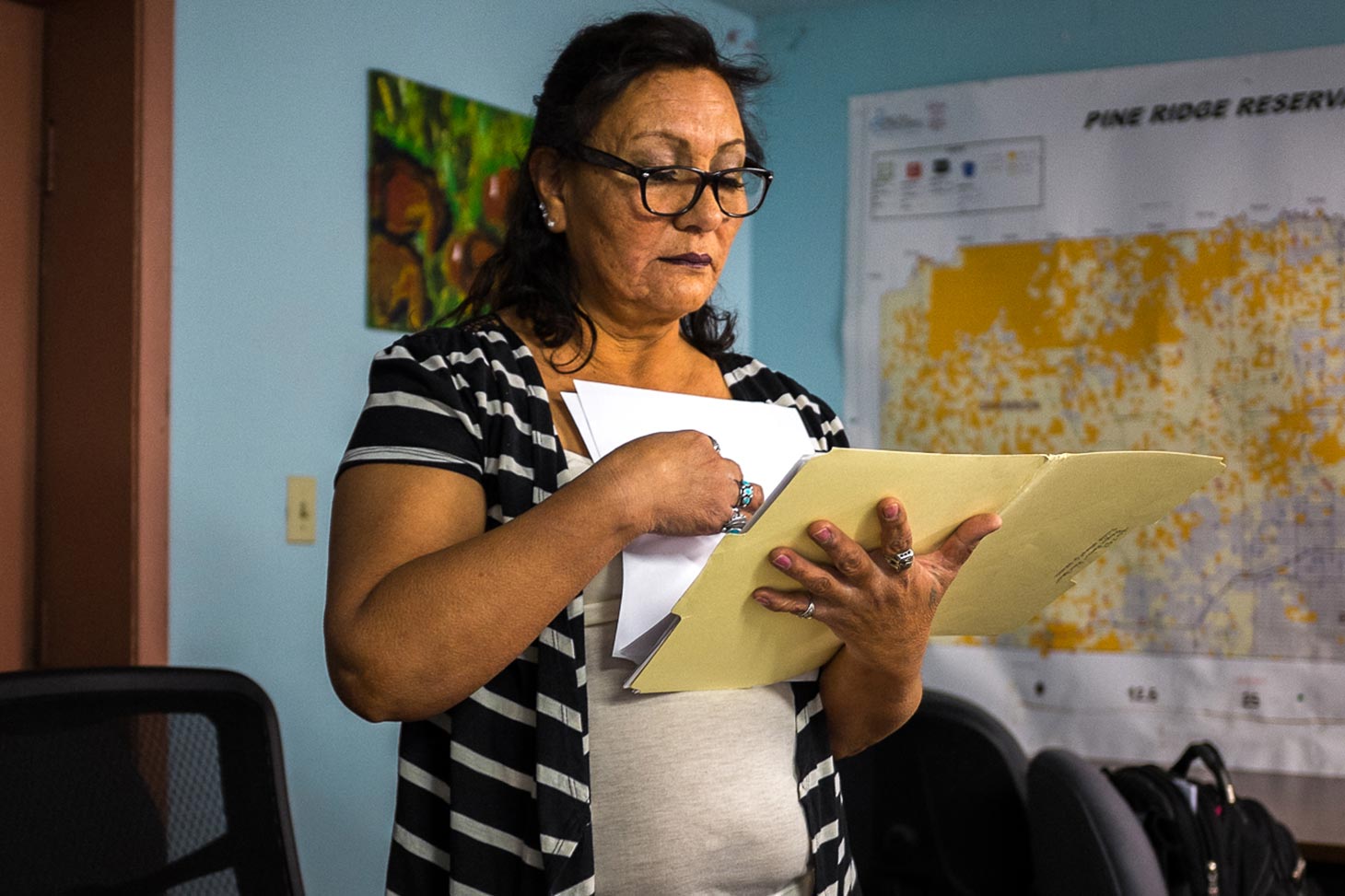 Arlene Catches the Enemy works in the economic development office of the Oglala Sioux of South Dakota. Here, she sorts though documents related to the tribe's refusal to engage in payday lending.
How one rogue tribal member tried to drag the Oglala Sioux into payday lending
Arlene Catches the Enemy was skeptical when a member of her Native American tribe, the Oglala Sioux of South Dakota, came here to preach about how online payday lending would change lives on the tribe's Pine Ridge reservation.
Raycen Raines, a former insurance salesman, was the idea's charismatic evangelist. The business of lending money to poor people at triple-digit interest rates was booming, said Raines. He told tribal officials in late 2011 that they, too, could get a cut of the action and bring in "a free income stream" to the tribe.
The Oglala Sioux could certainly use the money. Their reservation, which stretches across approximately 2 million acres of rocky hills and rolling plains, is one of the poorest areas in the United States. Tribal officials estimate the unemployment rate here at 80 percent — even worse in the winter when seasonal work on farms and ranches dries up.
But the tribe ultimately turned Raines down. "It was predatory lending," said Catches the Enemy, who works in the tribe's economic development office.
Payday loans are short-term loans with interest rates usually between 400 and 700 percent or higher. All a customer needs to obtain a loan is access to a computer and a personal bank account. The borrowers, who often have cash-flow problems and aren't able to get loans from traditional banks, usually agree to let the lender deduct interest and other payments from their bank accounts automatically.
Besides her problems with the loans, Catches the Enemy said tribal officials felt Raines' proposal shortchanged the tribe. Most of the money would go to a non-native-owned company, Arizona-based Cash Cloud LLC, which actually ran the lending business.
Despite the tribe's refusal, Raines went ahead and set up an online payday business anyway. FastMoneyStore.net used a post office box on the reservation as its legal address, even though Cash Cloud made and serviced the loans from Arizona. Soon Raines acquired partners. Today, at least 14 payday lending websites claim to do business from Pine Ridge. Besides Cash Cloud, the other companies that make the loans appear to be based in Utah, Texas, Canada and Belize, according to an analysis of corporate records and government documents.
Al Jazeera for more