by C. CHRISTINE FAIR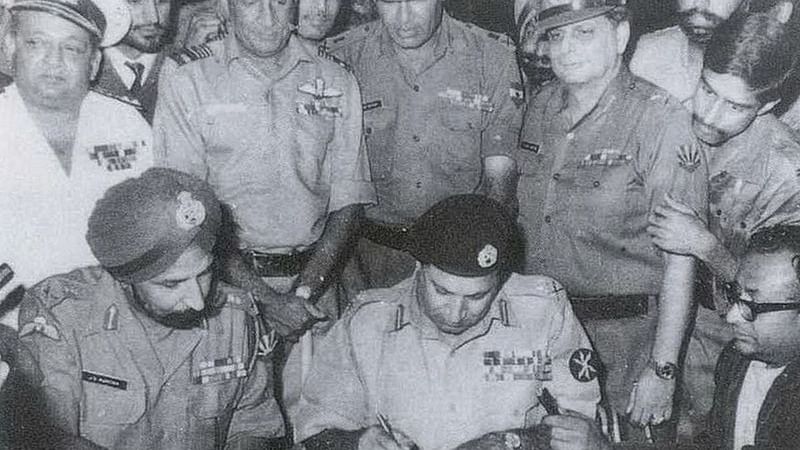 What did India gain from the 1971 victory? It now faces a country with an uncertain future in the East and a Pakistan that is ever more committed to using violence.
Fifty years ago, on 16 December 1971, Lieutenant-General Amir Abdullah Khan Niazi, the Commander of the Pakistan Eastern Command, signed the Instrument of Surrender at Ramna Race Course in Dacca, which was signed and accepted by Lieutenant General Jagjit Singh Aurora, the General Officer Commanding-in-Chief of India's Eastern Command. Pakistan's surrender terminated the military dimension of the conflict, also known as the India-Pakistan War of 1971. Oddly, while there are some biographical accounts, which are often blatantly self-serving, there are relatively few empirically robust accounts of this conflict, most of which focus upon the visible dimension of the war: between Pakistan and India. The moniker elides and even eclipses several distinct wars that culminated in Pakistan's surrender.
These other battles continue to cast shadows over the region that are as long as—if not longer—than those of the 1971 conflict between Pakistan and India. Pakistan learned the most dangerous lessons of the war. It concluded that repressing and exploiting disgruntled minorities is a viable tool of domestic statecraft while proxy war is an effective tool of foreign policy. Bangladesh has not become a viable secular democracy and appears ever less likely to do so. And India, despite decisively defeating Pakistan, was never able to build upon that victory to impose a settlement of the Kashmir issue in line with Delhi's equities while continuing to wrestle with fundamental questions about defence reforms and modernisation. In retrospect, while it may have lost that particular battle in December 1971, in many other ways, Pakistan and its project of Islamist violence seem to have won the larger and enduring war.
ThePrint for more
(Thanks to Razi Azmi)