by K. J. NOH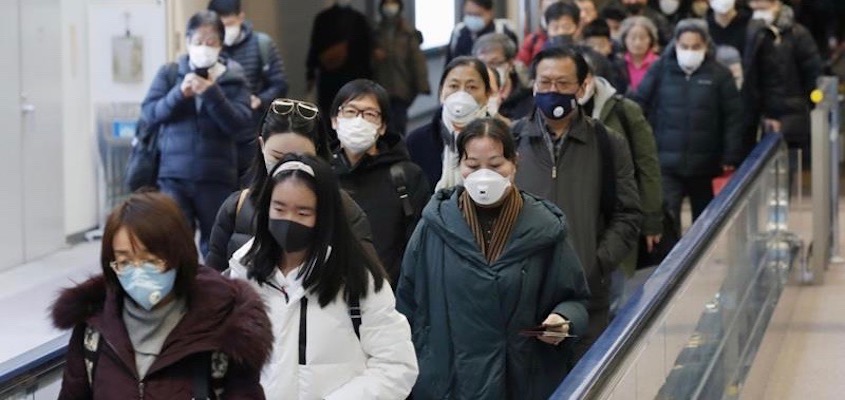 The US corporate media, especially the Times, has turned a medical emergency into a racist campaign of ideological propaganda.
"The New York Times has been avidly red-baiting."
"In the end, the plague touched us all…it was not confined….breeding in a compost of greed and uselessness and murder…promising life and delivering death…[serving] as furnished rooms for ideology."—Peter Hamill, Liner notes to "Blood on the Tracks"
The 2019 novel coronavirus, first detected late last year in the hub city of Wuhan, China is a rapidly-spreading viral disease, often characterized by a cluster of acute respiratory symptoms. The virulence of this outbreak has put most of China under a lockdown: over 50 million people have been quarantined in the immediate region; 40,000 people have been infected, and over 900–and counting –have died. Many neighboring Chinese cities also have restrictions on travel and movement to stem the tide of infection; and across the country, all of China is facing restrictions and hardship. In the face of this sudden and tragic crisis — and the extraordinary social distancing measures the Chinese government has taken to safeguard public health and prevent infection — the western media has made a highly political choice on how to report about it.
Instead of voicing support or encouraging solidarity–"We are Wuhan"—western corporate media have chosen to go all out to criticize and demonize China, sparing no effort to recycle and rekindle ugly, racist, orientalist, and dehumanizing trope s, using any perceived misstep, pretext, and shortcoming to tar China and the Chinese. One virulent narrative is that this is deliberate Chinese bioweapon to reduce population,. Another narrative, no less toxic and virulent, alleges that the Chinese leadership, out of a "fear of political embarrassment," suppressed free speech and silenced the flow of information "at critical moments," "allowing the virus to gain a tenacious hold," thus creating the conditions for a lethal epidemic that has led to the deaths of hundreds and the infection of thousands.
"The western media has made a highly political choice on how to report about this outbreak."
The NY Times takes the [yellow] cake for sowing this toxic, racist disinformation, alleging in numerous articles and opinion pieces of a "cover up": that "China's old habits put secrecy and order ahead of openly confronting the crisis"; that "they played down dangers to the public, leaving the city's 11 million residents unaware that they should protect themselves," and presenting this as proof dispositive that the Chinese system is fatally flawed. All this while reveling in and boosting on its website, unseemly schadenfreude that suppression of information and free speech has led to condign and expected catastrophe.
The most recent iteration of this propaganda concerns a Dr. Li Wenliang, recently deceased. Dr Li spoke of the disease at an early moment in the outbreak (December 30th) to a group of colleagues. He was later reprimanded by the police for "spreading rumors." After going back to work, he himself contracted the virus, and despite being young and seemingly healthy, he tragically passed away. Latching onto this unexpected fatality like a virus itself, the NY Times grafted onto his death, the "authoritarian suppression of the truth" meme, thus exploiting tragedy to circulate a political myth: that Dr. Li was a valiant, dissenting whistleblower who had "tried to sound a warning that a troubling cluster of…infections…could grow out of control." In other words, he had tried to warn the public early on about the virus, but had been brutally silenced and suppressed.
In particular, the Times claims that Dr Li was arrested by the government, "in the middle of the night," no less; and suggests that had he not been silenced, hundreds, perhaps thousands of lives would have been saved, and countless infections prevented. In other words, the Chinese communists, because of their obsession with political appearances, their mendacious secrecy, and totalitarian control, instigated a cover up that has had a nightmarish consequences for global health.
"The Times claims the Chinese communists instigated a cover up."
This disclosure would be truly extraordinary, heroic, award-meriting journalism. Except for one small problem: none of the assertions are supported by the facts, and none of the interpretations bear scrutiny.
Black Agenda Report for more