by AMANDA SPERBER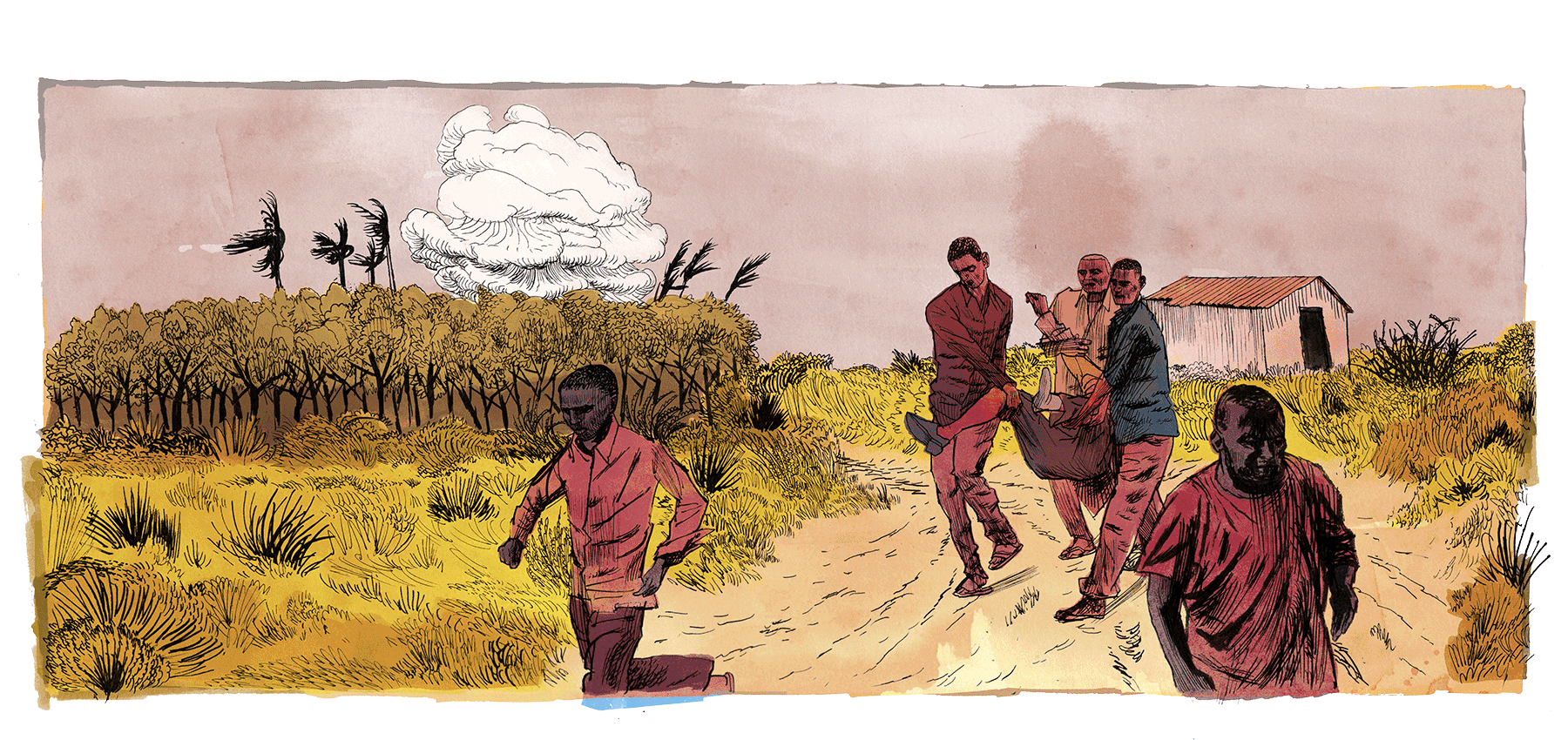 "Surgical" U.S. air strikes destabilize villages, drive displacement and fuel al-Shabab recruitment.
Nurto Mohamed Nor Issak, 59, doesn't want to talk about the coconut trees she lost after the U.S. air strike three years ago. She wants to talk about her son who was killed. Who cares about her trees?
Based on Issak's recollections, the strike was likely one of two carried out April 1 and April 2, 2016, near where Issak lives, in Janale—about 60 miles southwest of Somalia's capital, Mogadishu.
The Bureau of Investigative Journalism estimates as many as 29 people were killed by the air attacks. The Pentagon claims the April 2016 strikes were self-defense against fighters with the militant Islamist group al-Shabab who "posed imminent threats to U.S. and partner nation forces in Somalia."
Issak is adamant that her son was not with the militants and that she told him "not to mix with al-Shabab."
The reason I'm speaking with Issak, though, is that—regardless of her son's alleged association with al-Shabab—her coconut trees are still decapitated and her income depleted, three years hence.
Issak says the strike hit her sugarcane and coconut tree plantation, which stretched about 7 acres. Al-Shabab bans smartphones in the villages it controls, but Issak managed to use one to take photos of the damage. "The coconut trees lost their heads," she says. In the pictures, the tree trunks are stark against the blue sky, masts without sails.
Before the strikes, Issak had 240 coconut trees whose biweekly harvest brought her about $250—roughly $6,000 a year. Livestock and crops are the main sources of livelihood in Somalia—as they are for Issak, who says less than a quarter of her trees survived. U.S. Africa Command (Africom) generally uses precision-guided munitions—often Hellfire missiles with a 20–80 pound warhead, not large enough to cause mass destruction of a farm. But Issak says the strike set the grass under her trees on fire, causing the trees to decay (which coconut tree experts tell In These Times is plausible).
Issak has lost much with the decimation of her trees, but it's her son she misses most. He was a strong, supportive son with business plans, she says. He could have done so much with the farm. She still has the bloody T-shirt he was wearing when he died.
•
The United States began its campaign of "precision" strikes against al-Shabab (and, more recently, ISIS-Somalia) in 2007. In the past three years, Africom says it has carried out 148 strikes, killing between 900 and 1,000 people. Africom long maintained that all of the deaths were targeted "terrorists." This year, Amnesty International has investigated six U.S. air strikes and concluded they caused 17 civilian casualties. Africom has since admitted that one strike (not one covered by Amnesty) did result in two civilian deaths.
Such strikes—often referred to as "surgical"—can target a specific room in a house from thousands of feet away. But a bomb is still a bomb, and the impacts reverberate physically, psychologically and politically.
Following my own findings that U.S. air strikes were contributing to civilian displacement, along with informal reports from Somali sources and NGOs who said strikes were spurring al-Shabab recruitment, I travelled to Somalia for In These Times to investigate the strikes' civilian impacts.
I spoke with Somalis living in territories controlled by al-Shabab whose property or villages were hit by air strikes, as well as analysts, activists and policymakers. I found that U.S. air strikes in Somalia have damaged farms, homes and livestock. Strikes have also created a climate of uncertainty and paranoia within the communities they hit, as civilians start suspecting each other of being targeted members of al-Shabab. Al-Shabab has reacted to the strikes by harassing villagers, accusing locals of being U.S. spies or forcing them to choose between fighting for al-Shabab and fleeing home.
"Our research has found that when a Somali's farm or property is the scene of an air strike, that person is seen as suspicious and can be targeted for reprisals," weapons investigator Brian Castner, who worked on Amnesty International's Crisis Team to report on civilian casualties from U.S. air strikes in Somalia, tells In These Times.
U.S. air strikes have driven recruitment for ISIS and the Taliban, and experts say al-Shabab is likely to use them in the same way. Roselyne Omondi, the associate director of research at the HORN Institute in Nairobi, Kenya, told Public Radio International that air strikes feed into al-Shabab's claims that it is defending the country against foreign invaders. "If this continues, we can expect more radicalization," she said.
"Air strikes are without a doubt used as a recruitment tool," concurs Bill Roggio, a former soldier and senior fellow at Foundation for Defense of Democracies, a conservative think tank. He says the air strikes are a "staple" of jihadist propaganda he has seen, including al-Shabaab's.
Thirteen people told me they lost property, lost assets or were forced from their homes after U.S. air strikes. Some of the displaced had fled because al-Shabab tried to recruit them, sometimes cornering them for hours and returning numerous times over days or weeks. Others felt they could not return because al-Shabab would accuse them of spying, putting their lives at risk.
In These Times for more