by NNEKA M. OKONA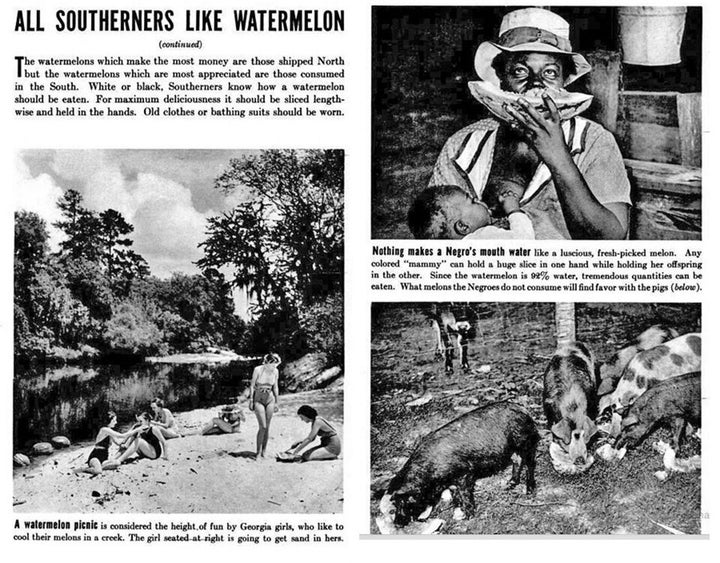 The cover of the Aug. 9, 1937 issue of Life Magazine is all about watermelons. On it, several watermelons are wedged into various spots in the back of a pickup truck, packed in along for the ride.
A bald, middle-aged Black man with broad shoulders sits on the back of that truck, shirtless and outfitted in worn pants held up with suspenders. His name is Roy E. Parrish, hailing from Adel, Georgia, and as he sits on the back of the truck, he peers out into sprawling acres of farmland on either side of a winding dirt road.
It appears on the surface to be a glorious tribute to his hard work and harvesting, but it shrouds a much darker and destructive racist stereotype that has persisted even today—one linking African Americans to a cherished pastime of munching on watermelons during the warmer summer months.
But how did it start? How did this green-and-white striped rind and its juicy, red flesh become a racist moniker?
The images disseminated in the Life story, and others like it, played a pivotal role in turning a bigoted assumption into a lasting racist stereotype in the minds of white Southerners ? and Northerners too.
Dr. Psyche Williams-Forson, associate professor and chair of African American studies at the University of Maryland, researches food shaming and policing; she found that stereotypical imagery involving food and Black people began in the early 1900s.
"When I was researching [fried] chicken, I found as many images about watermelon," she said. "In fact, one of my earliest images I have is of an African American man with a watermelon in each arm and a chicken on the ground, or a pullet as they called it. He was allegedly making the decision about [whether to] put the watermelons down and pick up the pullet. Or does he leave the pullet and take the watermelons?"
One of the first documented of these images appeared in Frank Leslie's Illustrated Newspaper in 1869. The cartoon, in black and white, shows five little Black boys sitting and standing in a doorway, hungrily devouring watermelon. One of these boys is so consumed with the watermelon, his face is obscured from view. Another has his head leaning outward as he tips what looks like an empty watermelon rind toward his head to catch the lingering bit of juiciness.
Huffington Post for more