by MAGDA ABU-FADIL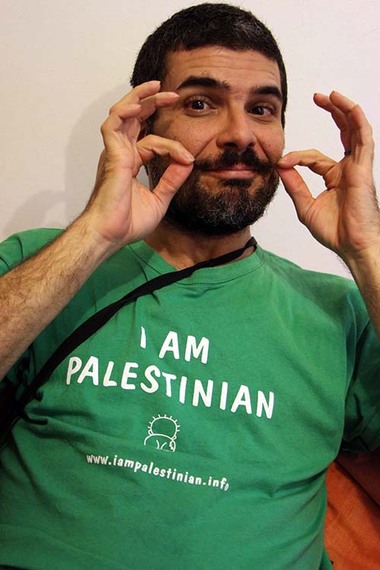 He punches hard, he's opinionated, his commentary is biting, his cartoons are thought provoking, and he doesn't regret being a magnet for nasty criticism.
He is Brazilian cartoonist Carlos Latuff who doesn't mince words or hold back on stirring up people, in his country and across continents.
"I got threats from cops, Zionists, Islamists, neo-Nazis – the list is long," he said of his many detractors who have tried to intimidate him on different occasions.
So much so that an American rabbi who called him an anti-Semite castigated the Huffington Post for publishing his cartoons.
Eddy Portnoy, who reviewed Joel Kotek's book "Cartoons and Extremism: Israel and the Jews in Arab and Western Media" in the progressive Jewish publication The Forward wrote that Latuff's material was furiously critical of Israel and its leaders in often terribly obnoxious ways.
"His work will surely upset even nominal supporters of Israel, but it is a stretch to categorize his cartoons as antisemitic, and it is a disservice to the fight against genuine antisemitism to have included them," Portnoy added.
Latuff is unrepentant about his scathing remarks and illustrations. He loves being provocative.
"One of the most notorious threats was in 2006 by a website linked to the Likud," Latuff noted of the online denunciation by the site close to Israel's right-wing government.

Screen shot of Likud-linked site that Latuff said attacked him
I asked why he feels so strongly about an issue so far removed geographically since he is not Palestinian – his grandfather hailed from Lebanon.
"I have supported their cause since I visited the West Bank in 1998," he said.
In a recent cartoon with an Israeli soldier in the likeness of Mark Zuckerberg standing guard at Israel's "separation wall" and barring a Palestinian youth from entering Facebook, Latuff slammed the social media site for censoring a cartoon critical of Israel.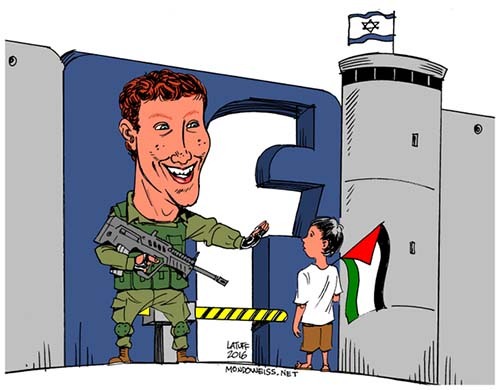 IMAGE/Screen shot of "@Facebook censors cartoon critical of Israel"
Huffington Post for more