by RAZA NAEEM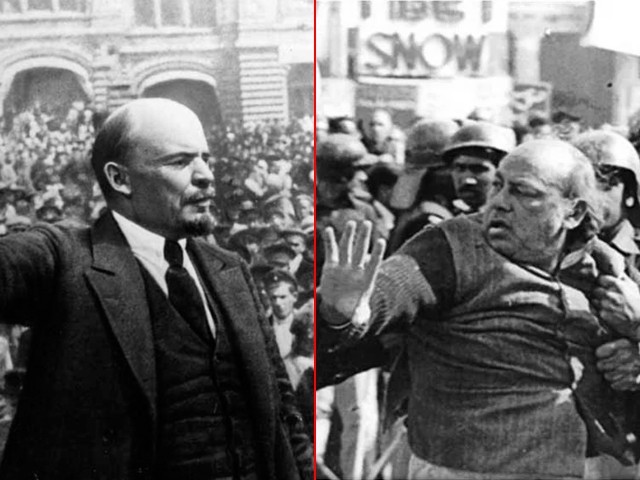 The figure of Vladimir Lenin exercises a talismanic hold on revolutionaries everywhere, across time and space. The year 2017 was celebrated as the centennial of the Bolshevik Revolution, leading to the establishment of the first socialist state presided over by Lenin and marking an important moment in history.
Likewise, Urdu literature is also rich in writings about the Bolshevik Revolution. However, writings on Lenin, especially poems, are few and far between.
Perhaps the most celebrated poem on the founder of the Russian revolutionary state was Allama Muhammad Iqbal's Lenin, Khuda ke Huzoor Mein (Lenin in God's presence) written soon after the revolution took place in Russia. Russian poet Vladimir Mayakovsky's Conversation with Comrade Lenin, written in 1929, is also another notable attempt at a fictional dialogue with the great revolutionary leader.
Readers may be surprised to know that despite a long progressive tradition in Urdu literature inspired by the events of 1917, not much poetry exists with Lenin as the subject. Thus, on the occasion of Lenin's 149th birth anniversary today, I am offering a rare and original English translation of revolutionary Pakistani resistance poet Habib Jalib's eulogy to Lenin, titled Lenin – Jawab iska paida kare kainaat, part of Jalib's 1975 poetry collection, Ehd-e-Sazaa (The Age of Punishment).
He left giving a ray of light in the dark nights

He left giving a youthful exuberance to (our) thoughts

He left giving the art of truthful living

He left us with the passion for life

The flowers keep blooming on every branch

He left imbuing the garden with spring

Lest anyone die at hunger's hands

He gave clothes to every body

No one can loot anybody

He left the workers with a nation

How should I narrate Lenin's greatness?

How can my word possess such power?

How can my thought ever reach him?

My verse is the earth, and he the heavens

He freed us from every injustice

The entire world eulogises him

He does not lead one country alone

His followers are indeed in the depth of the sky

His lamp will forever remain alight

A thousand storms of reaction, come as they might

He defeated the czar's sons

The night trembles with his reflections

He gave imagination to the writers

His every word became poetry

I am alone in life no longer

He remains with me at every step

The calamities which he negotiated with such grace

Those same I continue to face

Both of us face the same enemies in the fight

I too confront a similar night

My pace will not cease

The same destinations, the same paths

I will remove every trace of the rich

However they punish me now, I don't care

I am a fellow traveller of my sun

Why then would the darkness not make way for me?

It will always be my wish, every breath

That this hellish world become the pride of heaven!
The Express Tribune for more