by CHRIS GILBERT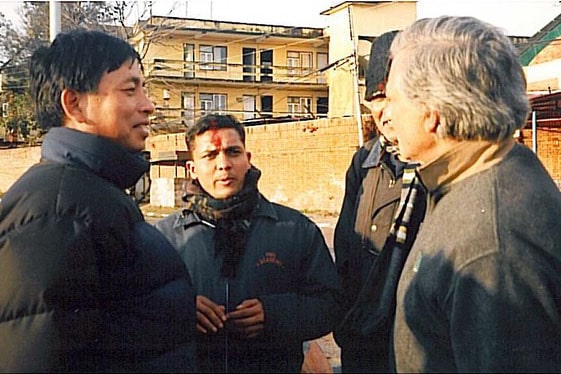 What is the relation between power in the military realm and in the political one? Between prowess, inventiveness, and responsibility in one context versus the same qualities in the other? These questions come to a head for me—a Bolivarian Marxist traveling in Nepal to learn from its revolutionary process—after meeting with Vice President "Pasang" (Nanda Kishor Pun), who was once commander of the People's Liberation Army.
To meet the Vice President, my companion and I are led by a protocol officer into a comfortable office lounge in a building beside Nepal's Electoral Commission. There are a few assistants in the room. Pasang soon enters dressed in a neat blue suit with a Nepal flag pin in his lapel. He is welcoming and friendly, responding very briefly to my questions about his views on the role of morale in revolutionary war and whether there are any universal lessons to be drawn from Nepal's recent struggle.
Quickly changing the subject, the Vice President asks if there is peace in Venezuela, to which I say, yes, for more than a year there has been relative peace. It soon becomes clear from Pasang's manner that we are in a very official context and will not be delving deeply into either revolutionary military practice or politics. In fact, during the whole meeting, the only indication that the VP comes from a Marxist background are a few fleeting remarks made about the shared struggle of Nepal and the Latin American countries against capitalism…
The formal courteousness of this one-time revolutionary commander is itself food for thought. Unlike other key Maoist leaders, who have separated from Prachanda's hegemonic tendency, Pasang has followed the latter in forming Nepal's new ruling party through a fusion with UML, the traditional communist party. Pasang was probably the most impressive military leader to emerge in the People's Liberation Army. He is famous for brilliantly haranguing his troops before battle. These were often informal, even "green" troops, who are said to have maintained high morale and carefully followed their commander's instructions in the most difficult battles.
The People's War here lasted ten years, from 1996 to 2006, and Pasang was a key player in all of it. His first engagement targeted a police post in Holeri in 1996 and was carried out almost without arms (one rusty Enfield .303 and some homemade grenades). Later on, along with fellow division chief Ananta (Barsaman Pun), he came to command more regular troops. Engagements were always seen in political terms, with a military action sometimes being valued as much for its "propaganda effect" as for its strictly concrete results. Before attacking the district headquarters Beni, Pasang's most successful action, he reminded his troops about the need for sacrifice: "Each of you must feel personally responsible for bringing the battle to a successful end."
Monthly Review Online for more