by SAM LEVIN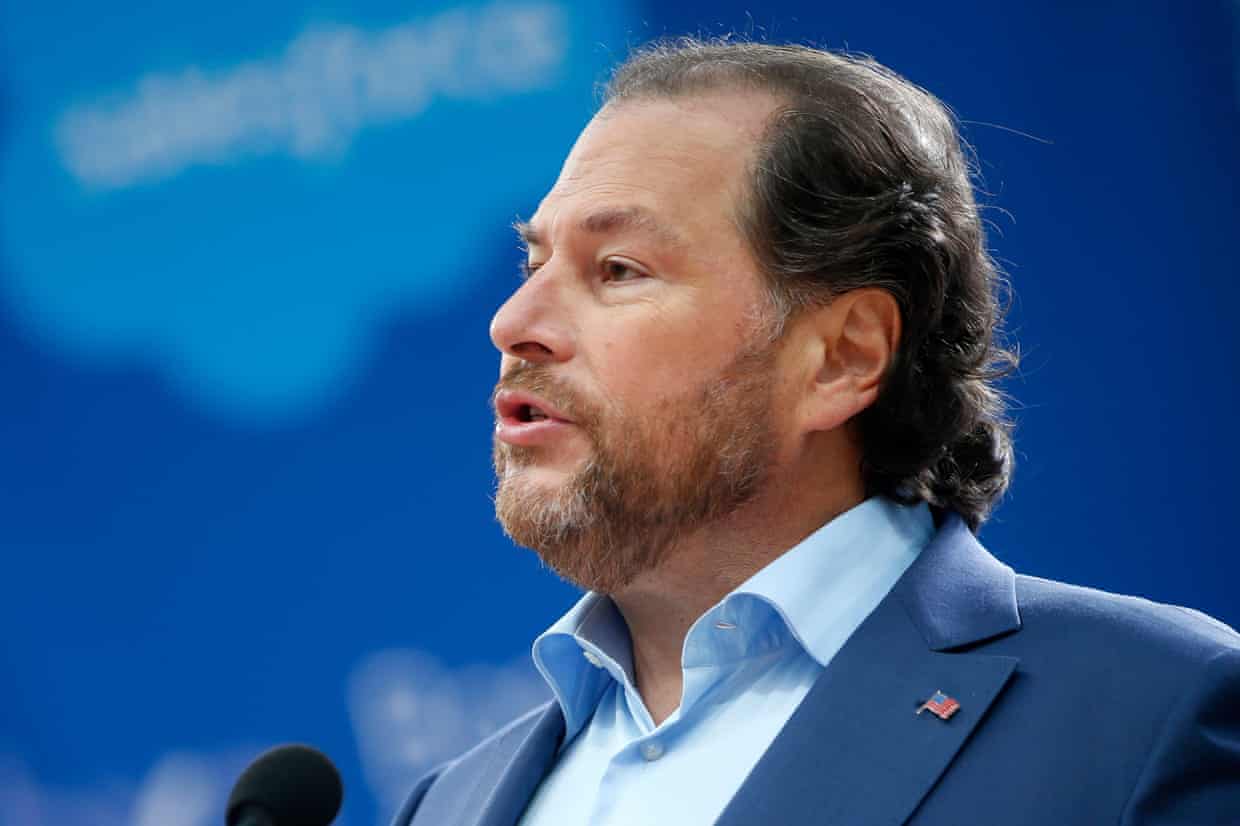 Marc Benioff is supporting a proposed business tax that would generate money for homeless services in San Francisco. PHOTO/Alamy Stock Photo
In Guardian interview, Marc Benioff calls out Twitter's Jack Dorsey and others for failing to give back to city where they got rich
Marc Benioff, the Salesforce CEO, has escalated his attacks on fellow San Francisco billionaires, saying they are "hoarding" money and don't want to help the homeless.
In an interview with the Guardian on Tuesday, the tech entrepreneur intensified his criticisms of Jack Dorsey, the CEO of Twitter, saying: "He just doesn't want to give, that's all. And he hasn't given anything of consequence in the city."
Benioff's recent efforts to call out ultra-wealthy business leaders has caused divides in the tech industry, which has typically been united in its resistance to taxes that could fund services and combat income inequality.
The CEOs' unusual public spat centers on Proposition C, a ballot measure that would tax large businesses in San Francisco by implementing an average 0.5% gross receipts tax for company revenues over $50m. The measure is meant to help fix a rapidly expanding humanitarian crisis in the city.
The growth of tech firms such as Salesforce, a cloud computing company and one of the largest employers in the city, has contributed to a massive housing shortage, with thousands left homeless, including one in 25 public school children. Prop C, which Benioff is backing, is expected to raise between $250m and $300m a year to pay for housing, shelters, mental health treatment and more.
Dorsey, who also runs Square, a second major San Francisco-based tech firm, recently announced his opposition to the measure, saying he did not believe it was "the best way" to "fix the homeless problem".
Benioff said by phone that he had expected Dorsey to stand against Prop C – and that he did not anticipate the Twitter co-founder would change his mind or give back in a meaningful way. "That's not a surprise to me. There's lots of CEOs and companies and billionaires in that category. We have 70 billionaires in San Francisco [Bay Area region]. Not all of them are giving money away. A lot of them are just hoarding it. They're keeping it. That's just who they are and how they look at their money."
He continued: "This is a critical moment where I think Prop C kind of illuminates who is willing to be a San Franciscan and actually support our local services."
The Guardian for more