by AMRITA DUTTA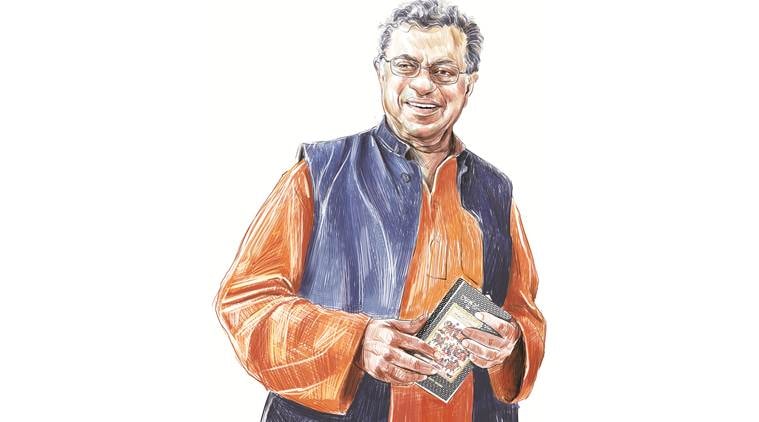 Girish Karnad's outspokenness has offended nearly everybody, from Tipu Sultan-haters to Kannada chauvinists and VS Naipaul acolytes. ILLUSTRATION/Suvajit Dey
For years, Girish Karnad has used history and ancient myths to examine the fault lines of Indian society, here and now. As he returns with a new historical play, a look at the 80-year-old's legacy and why he still feels the need to voice his dissent.
Two sentries patrol the ramparts of the fort of the new capital, Daulatabad. It's Scene Eight of Tughlaq, and the dreams of a visionary king have already been dragged through dust.
Girish Karnad recalls a moment in the production of his play in 1986, two years after Indira Gandhi was assassinated in her home by her guards. The younger one, convinced of the invincibility of the fort, says: "No army could take this."
The older, wiser one, says: "Invariably, forts crumble from the inside." "The moment the line was spoken, the whole audience drew its breath and gasped: hah!" says Karnad, his palm dramatically shutting his mouth, his eyes wide to mime the surprise of the audience. "It was a play about a 14th century sultan. But they immediately related it to Indira and what had happened to her," he says.
Karnad wrote Tughlaq (1964) when he was 26 years old, creating a metaphor for authoritarianism that becomes relevant with each new bend in modern Indian history. When it was first published, the play's depiction of Muhammad bin Tughlaq's idealism, his efforts at creating a more secular state, his far-sighted ideas about the economy and his eventual disintegration into a mad tyrant seemed to provide a striking parallel to the disenchantment with Nehruvian ideals that had swiftly set in after Independence. During the Emergency, Tughlaq's ruthlessness became a way to understand the way democracy could be gamed by a popular leader. "History is interesting because it gives me the essence of today's living," says the playwright, who turned 80 this year.
Six years after he wrote his last play, Karnad returns to history in Rakhsasa Tangadi (written in Kannada, like all his plays), which was released last month in Dharwad. "There is an interesting contradiction in the concept of a historical play. It is about history, which means it has happened in the past. But it's a play, which means it is happening in front of you…This is the marvellous thing about theatre. The audience continually relates it to their own lives," says Karnad, when we meet at his apartment in Bengaluru. In an orange khadi kurta, he is striking in appearance, if a little wan. He plugs in his oxygen pack matter-of-factly, explaining that it his "third lung", one he needs 24×7. His sentences are shorter, the task of talking wears him down, but his attention seldom wavers.
Indian Express for more