by PAUL BLUMENTHAL & GOPAL SATHE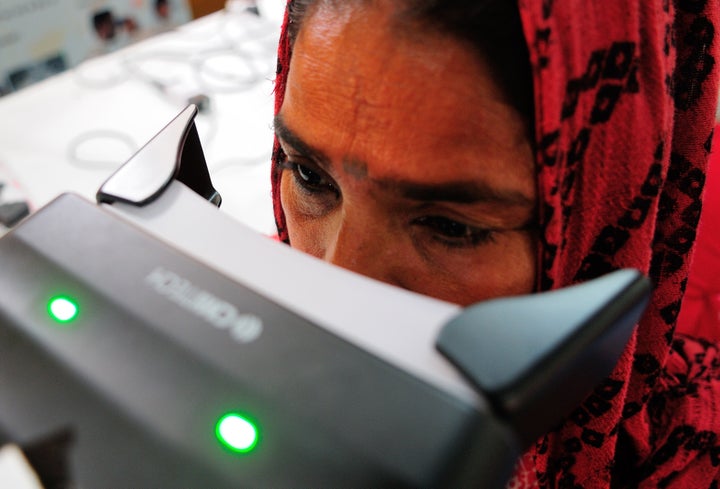 A woman is screened for an Aadhaar card on April 12, 2013, in New Delhi, India. PHOTO/Mint via Getty Images
The Aadhaar program offers a glimpse of the tech world's latest quest to control our lives, where dystopias are created in the name of helping the impoverished.
Big U.S. technology companies are involved in the construction of one of the most intrusive citizen surveillance programs in history.
For the past nine years, India has been building the world's biggest biometric database by collecting the fingerprints, iris scans and photos of nearly 1.3 billion people. For U.S. tech companies like Microsoft, Amazon and Facebook, the project, called Aadhaar (which means "proof" or "basis" in Hindi), could be a gold mine.
The CEO of Microsoft has repeatedly praised the project, and local media have carried frequent reports on consultations between the Indian government and senior executives from companies like Apple and Google (in addition to South Korean-based Samsung) on how to make tech products Aadhaar-enabled. But when reporters of HuffPost and HuffPost India asked these companies in the past weeks to confirm they were integrating Aadhaar into their products, only one company ? Google ? gave a definitive response.
That's because Aadhaar has become deeply controversial, and the subject of a major Supreme Court of India case that will decide the future of the program as early as this month. Launched nine years ago as a simple and revolutionary way to streamline access to welfare programs for India's poor, the database has become Indians' gateway to nearly any type of service ? from food stamps to a passport or a cell phone connection. Practical errors in the system have caused millions of poor Indians to lose out on aid. And the exponential growth of the project has sparked concerns among security researchers and academics that India is the first step toward setting up a surveillance society to rival China.
A Scheme Born In The U.S.
Tapping into Aadhaar would help big tech companies access the data and transactions of millions of users in the second most populous country on earth, explained Usha Ramanathan, a Delhi-based lawyer, legal researcher and one of Aadhaar's most vocal critics.
The idea for India's national biometric identification team wasn't unprecedented, and in fact, it has strong parallels with a system proposed for the United States. Following the Sept. 11, 2001, attacks, the CEO of Oracle, Larry Ellison, offered to build the U.S. government software for a national identification system that would include a centralized computer database of all U.S. citizens. The program never got off the ground amid objections from privacy and civil liberties advocates, but India's own Ellison figure, Nandan Nilekani, had a similar idea. The billionaire founder of IT consulting giant Infosys, Nilekani conceptualized Aadhaar as a way to eliminate waste and corruption in India's social welfare programs. He lobbied the government to bring in Aadhaar, and went on to run the project under the administration of Manmohan Singh. Nilekani gained even more influence under current Prime Minister Narendra Modi, who moved to make Aadhaar necessary for almost any kind of business in India.
Huffington Post for more