by ALANNA VAGIANOS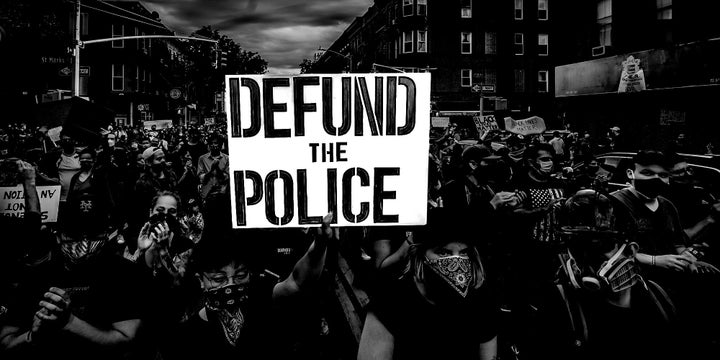 Massive law enforcement budgets have only increased in recent years. Activists are calling to defund the police and invest that money into communities of color.
Chants to "Defund the police!" have reverberated around the country, from New York City to Minneapolis and through the streets of Los Angeles, as thousands of people protested racist police violence this past week.
While some may hear the phrase and assume it's a radical, punitive step to end policing altogether, it's actually an acknowledgment of a simple point: Police departments typically have way, way more money than other government services that could better serve communities without subjecting them to brutality and violence.
Collectively, the U.S. spends $100 billion every year on policing, or $1 trillion in the past decade. The New York City Police Department's annual budget was nearly $6 billion last year. The federal Centers for Disease Control and Prevention's annual budget for dealing with infectious diseases budget was about a third of that ($2.55 billion). The average state spending on higher education rose less than 6% between 1986 and 2013, while the average spending on policing increased by 141%, according to a 2018 Freedom to Thrive analysis.
Black Lives Matter and other anti-police violence groups have been working to defund the police by cutting agencies' budgets for years. And these efforts have gained momentum in the wake of the outcries spurred by deaths at the hands of police of George Floyd, Breonna Taylor and others. Last year alone, police in the U.S. killed over 1,000 people, 25% of whom were Black.
"It is important to remember that modern-day policing have their roots in slave catching. These systems were created to hunt, maim, and kill Black people," Kailee Scales, managing director of Black Lives Matter Global Network, told HuffPost. "As we have seen in the example of George and many others in this month alone, the police are a force of violence that profiles, harasses, and inflicts harm on Black communities without accountability ? and with far too many resources."
Over the last decade, states and cities have spent more and more of their budgets on policing, far exceeding funding increases for other fundamental services like mental health care, affordable housing, job programs and education. Research shows that these services are actually more impactful in reducing crime than more police or prisons.
Huffington Post for more