by ARINDRAJIT BASU & AMBER SINHA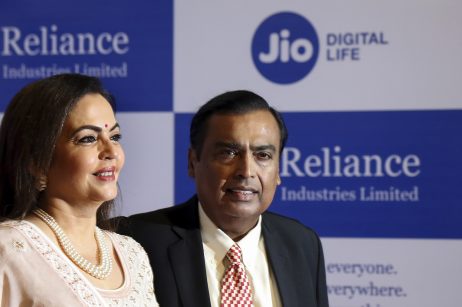 Facebook is betting big on India again. Last week, it was formally announced that Facebook Inc. had signed binding agreements to make investments to the tune of $5.7 billion into Reliance Industries Limited's subsidiary Jio Platforms. Reliance Industry Limited is one of India's biggest multinational companies, owned by India's richest man Mukesh Ambani. As of January 2020, Jio is the largest mobile network operator in India with over 370 million subscribers — a feat it had attained by initially offering the service free of charge.
Over the last five years, we have witnessed several alliances between pharmaceutical and agricultural giants such as the Bayer-Monsanto deal and the systematic horizontal expansion of companies in India, such as Walmart's $16 billion acquisition of leading Indian e-commerce player Flipkart. While Facebook's minority share in Reliance Jio is nothing like the 77 percent controlling share that Walmart acquired in Flipkart, the Facebook-Reliance Jio deal has to be evaluated closely due to its potential implications for the global tussle on data governance, and for politics on data sovereignty in the world's largest democracy.
Sparring on Data Localization
Reliance and Facebook have been anything but close allies in the tumultuous geoeconomic debates that have shaped Indian domestic cyber policy over the past couple of years. Since the Reserve Bank of India's 2018 directive, which mandated the local storage of all payments data, various entities in the Indian government have introduced a slew of data localization policies mandating some form of data localization. The most salient of these was the mandated mirroring provision in the August 2018 draft of the Personal Data Protection Bill prepared by the Justice B.N. SriKrishna Committee. This provision was diluted in the revised December 2019 draft that was tabled by IT Minister Ravi Shankar Prasad and restricted only to "sensitive personal data" and "critical personal data" — both with key exceptions
The Diplomat for more