by AKBAR SHAHID AHMED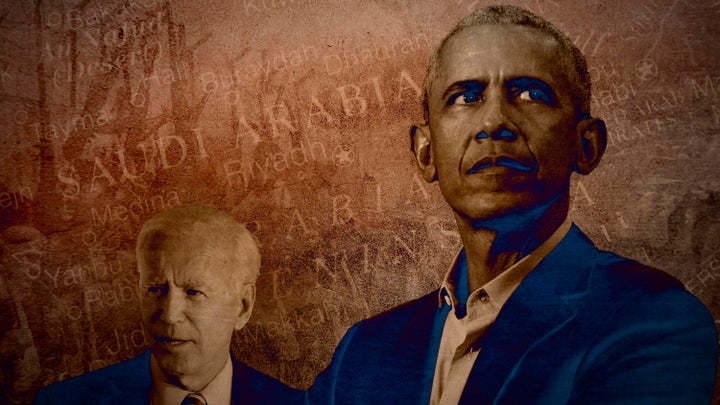 "The Khashoggi thing is over a year old," former adviser Susan Rice said when asked if Obama would weigh in on the Saudi journalist's murder.
Joe Biden was vice president when President Barack Obama began providing American assistance to Saudi Arabia for its war in Yemen, which killed more than 6,000 civilians by the time Obama and Biden left office. Under the watch of what Biden now calls the Obama-Biden administration, the Saudis relied on U.S.-provided intelligence to run missions in U.S.-provided planes that dropped U.S.-made bombs on hospitals, schools, markets and funerals.
But now, as he seeks the 2020 Democratic presidential nomination, Biden says "it is past time to end U.S. support for the war in Yemen." Scores of fellow Obama alumni agree. In public appearances, op-eds and joint letters, prominent figures including former national security adviser Susan Rice and her deputy Ben Rhodes have said President Donald Trump must end the policy that they initiated.
"Our decision in the Obama administration to launch a partnership with Saudi Arabia in Yemen, not so much launching it but continuing it when it went off the rails … that's something that, given how that conflict has unfolded, people of conscience have reason to regret," Rice told HuffPost.
Yet Obama hasn't weighed in himself ? not on the Yemen policy nor on the Saudi government's role in the murder of journalist Jamal Khashoggi, two issues that official Washington sees as linked because of what they both reflect about America's closest Arab partner. A spokeswoman for Obama declined to comment.
Asked about the prospect of the former president saying something about Yemen or Khashoggi, Rice said: "You know, the Khashoggi thing is over a year old."
"I don't expect him to speak out on a wide range of foreign policy issues," she added. "I think he, despite all the provocations coming at him and his team from the Oval Office, has worked very hard to respect the tradition that predates this president which is that former presidents are highly reluctant, and the bar is extremely high, to criticize the decision-making of their successors."
That's a dodge. Obama would not have to comment on Trump to reflect on his own moral responsibility for the devastation in Yemen between March 26, 2015, and Jan. 20, 2017. Nor would he have to reference his successor to say it was wrong for Saudi government agents to lure a citizen to a diplomatic facility and chop up his body.
Huffington Post for more