by GLEN FORD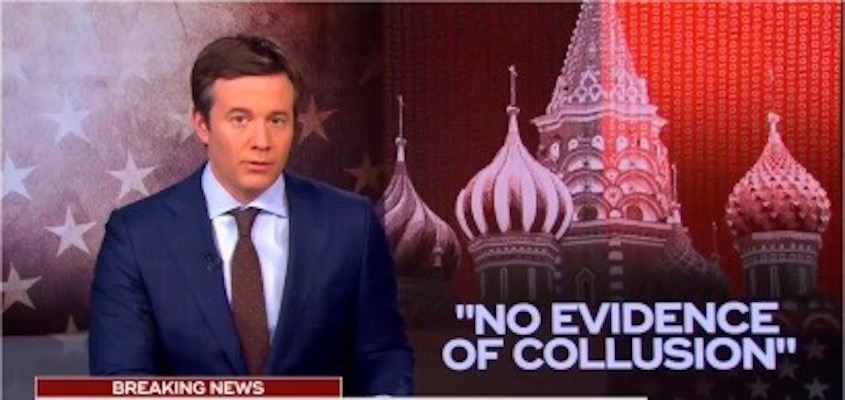 The "Deep State" escalated a dispute within the U.S. corporate electoral duopoly into a geopolitical crisis, an "attack on America"
"Russia and Wikileaks were framed in a media show trial."
Robert Mueller has finally put a plug in the noxious fart that has oozed for almost three years from the conjoined bowels of the Democratic Party and the national security state — but the stain remains, and may yet be lethal to us all.
Russiagate began as a lame excuse for Hillary Clinton's spectacular failure to defeat her supposedly ideal opponent, a "deplorable" straw man who could easily be knocked down by the supremely "qualified" corporate battle axe. As Wikileaks revealed, Clinton campaign chief John Podesta urged Democrats and cooperative media to make Donald Trump a "Pied Piper " of Republicans in the belief that a Democratic landslide would result. Corporate media came through for the Democrats, bestowing a total of $5 billion in free air time on the Trump campaign –more than Clinton, Bernie Sanders, Ted Cruz, Paul Ryan and Marco Rubio combined. Thus, the Democrats and Democrat-friendly corporate media gave us the Trump presidency – with decisive help from Black voter suppression in the GOP in Midwestern "swing" states.
However, Russiagate would never have exploded into a screaming marathon of madness were it not for the machinations of the national security state — the CIA, FBI and spooks like former national intelligence director James Clapper, the man that swore to the U.S. Congress that the government was not "wittingly " spying on hundreds of millions of Americans. Appalled at Trump's campaign rhetoric against U.S. "regime change" and "nation-building" policies and his snipes at NATO, the spies, disinformers and militarists moved en mass into Hillary's "Big Tent." Without their decisive collaboration, "Russiagate" would have soon passed into history as merely a case of electoral losers' sour grapes. The "Deep State" escalated a dispute within the U.S. corporate electoral duopoly into a geopolitical crisis, an "attack on America" and a new "Pearl Harbor."
"The Democrats and Democrat-friendly corporate media gave us the Trump presidency."
Simply put, the real rulers of the U.S. empire could not depend on Donald Trump to maintain the momentum of the U.S. military offensive that had begun with Barack Obama's attack on Libya in 2011 and continued with the jihadist proxy war against Syria, the coup that toppled the elected, Russia-friendly government in Ukraine, and the "pivot" against China. It doesn't take an algorithm to figure out that the U.S. is rapidly being eclipsed by the rising powers of the east: China and its geopolitical partner, Russia. At this late stage in the imperial game, the only strong cards Washington holds, are military. Hillary Clinton was "all in" with the global military offensive, including a willingness to play "chicken" with Russia in Syria and Ukraine. The fate of empire could not be left in Donald Trump's erratic little hands, so he was to be hobbled by Russiagate from day one of his presidency. The main objective, however, was not to knock Trump off — which was always a dangerous long shot — but to control him, and to keep the war hysteria going.
In that sense, and from the standpoint of the National Security State, Russiagate has been a success. Under Trump, relations with Russia and China have been firmly re-set on State of Permanent Near-War, and Washington has escalated its economic aggressions against Venezuela and Iran to levels that are nearly indistinguishable from military assault.
"The fate of empire could not be left in Donald Trump's erratic little hands, so he was to be hobbled by Russiagate."
Thanks to Russiagate, the Democratic Party stepped forward to fill the imperial void that was temporarily created in the corporate duopoly by Trump's takeover of the GOP. The Democrats became the most aggressive wing of the War Party — as if, for foreign policy purposes, Clinton had not really lost the election, at all. Democrats overwhelmingly supported both of Donald Trump's record-breaking war budgets — including majorities of the Congressional Black Caucus. Congresswoman Maxine Waters strutted around the Capitol waving an American flag and blabbering about how Vladimir Putin was "continuing to advance into Korea " – apparently confusing that country with Crimea. Ostensible "Black Lives Matter" activists like Shaun King identified fully with former FBI director Robert Mueller and felt "betrayed" by Trump's distrust of U.S. intelligence agencies– as if Cointelpro never happened, the FBI isn't out to frame "Black Identity Extremists," and the CIA doesn't tell lies for a living.
Black Agenda Report for more