by FATIMA BHUTTO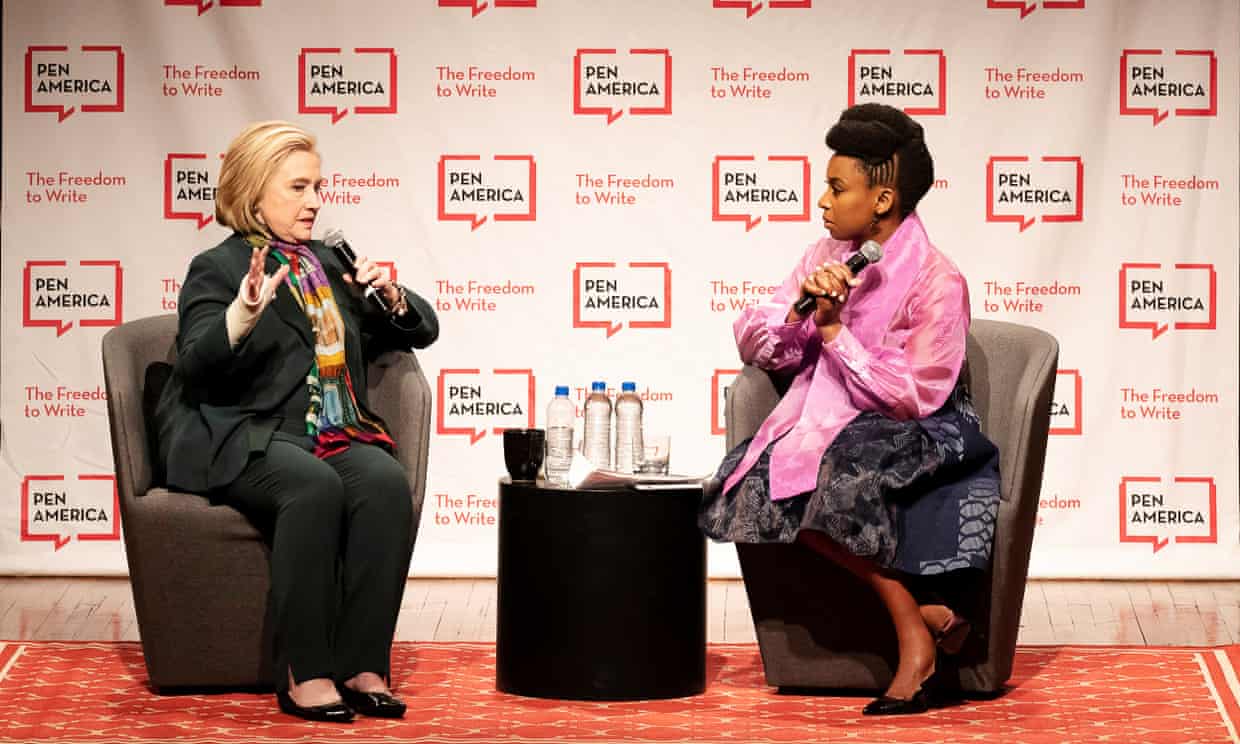 Hillary Clinton and Chimamanda Ngozi Adichie at PEN America's world voices festival. PHOTO/Karsten Moran/New York Times/Redux/eyevine
How many times must famous writers not only fail to confront the violence inflicted by the west, but actually celebrate it?
In April, at an event called Resist and Reimagine, PEN America invited Hillary Clinton to deliver the Arthur Miller Freedom to Write lecture. The former secretary of state, chosen by America's pre-eminent literary organisation for her "human rights accomplishments", engaged in a Q&A afterwards with Nigerian American novelist Chimamanda Ngozi Adichie.
Admirers of Adichie's writings may have hoped that she would hold Clinton to account for her ruinous human rights record: her vociferous support for all the wars the United States has fought since 2001, costing almost $5tn, according to a recent report from Brown University, and causing the death of more than a third of a million people in Iraq, Pakistan and Afghanistan. During Clinton's tenure as secretary of state, the United States expanded its disastrous war on terror in Africa, most notably in Libya, Mali and Somalia. But Adichie wasn't expressing her own anguish at this despoiling of several African countries as she sat down with the former presidential candidate and said: "When I said hello to Mrs Clinton backstage, I had to try very hard not to get emotional."
Adichie, instead, proceeded to read from an article she had wanted to title "Why is Hillary Clinton so Widely Loved?". She suggested Clinton rewrite her Twitter bio to read "would have made a damn good president" and asked questions such as: "I sense a kind of fundamental optimism about you … are you an optimist? I want to ask whether you are aware of how much of an inspiration you are?" In her mind, Adichie confessed, she called Clinton "Auntie" as she said she spent "a lot of time" being "very protective" of her.
At no point did Adichie ask about Clinton's vote in support of the Iraq war; her promise to "obliterate" Iran; her desire to protect Egypt's Hosni Mubarak, who she called, along with his notoriously corrupt wife "friends of my family"; her championing of the catastrophic intervention in Libya (on the day Muammar Gaddafi was killed, after he had first been sodomised with a sword, Clinton pumped her fists and cheered "We came, we saw, he died") or the billions of dollars of arms transfers to Saudi Arabia she sanctioned as secretary of state, including fighter jets presently being used by Crown Prince Mohammed bin Salman to starve Yemen into submission. Clinton's recent comments urging Europe to curb immigration fits perfectly with her political record: as first lady in 1996 she supported her husband's Illegal Immigration Reform and Responsibility Act, which set the foundation for America's aggressive deportation system.
It is disquieting then to learn that Adichie has been drafted in to interview another first lady, Michelle Obama, at London's Southbank in December. Obama, unlike Clinton, was never a serving member of government, never presided over unjust wars or illegal occupations, and cannot be held accountable for her husband's policies. She now moves in the depoliticised world of celebrity in which it is possible for her to call George W Bush, the warmongering Republican notorious for his callous treatment of African Americans during the aftermath of Hurricane Katrina, her "partner in crime" (even after he lobbied for the nomination of Brett Kavanaugh, whom multiple women have accused of sexual misconduct, to the supreme court).
The Guardian for more