by B. R. GOWANI
John Abraham (left), Katrina Kaif, and Neil Mukesh in New York.
The Indian film industry in Mumbai has now come of age, because in recent years it has demonstrated it can tackle diverse and controversial subjects away from their usual family dramas.
Hence, in a way it was expected that the tragedy of 2001 in the US will eventually be depicted on the Bollywood celluloid. After all, not only that there are over 150 million Muslims living in India, but many Hindus and Sikhs of Indian origin were also targeted in the aftermath of the incident.
Within the last nine months, three movies have been released that deal directly or indirectly with the topic: New York, Kurbaan, and My Name is Khan.
This is in the wake of the ongoing tragedy unfolding in Iraq, Afghanistan, and, more recently Pakistan, that amply illustrate the fruits of the US vengeance. Within the US also, many Muslims suffered imprisonment, humiliation and torture. Approximately, 1,200 immigrants were arrested and detained.
It is not that 9/11 is the greatest of tragedies; there have been dozens of disasters that were of many fold proportion as compared to this within the last hundred years. But the differentiating feature here was that the victim this time was the Super Power. Hence, the reaction was destined to be of a global nature.
In light of the publicity and over exposure of this event, one would expect that the movies made regarding this tragedy would be well researched and vigilantly prepared. Here is a synopsis and brief commentary on the movies.
New York

In the film New York one of the main characters (Sam) who was living in the US, was wrongly arrested, imprisoned, and tortured. After his release, his intense trauma causes him to plan to blow up the FBI building. At the last minute, however, he is persuaded not to. But then he is killed. His girlfriend, not an accomplice, is killed too by mistake. The killing takes place on top of the FBI building.
The film's foundation is weak. The FBI plants weapons in Sam's friend's cab and then compels him to turn into an informant for the FBI in order to foil the plot. If the FBI could wrongly arrest and keep Sam detained for nine months, what could have stopped them from re-arresting Sam (and his colleagues) who are this time suspected of being involved in a real terror plot? The answer was not clear. Sometimes it felt like the informant was in command and not the FBI agent when he was shown shouting at the FBI officer assigned to the case.
Unnecessary thrills were added. Just one example: There was forced commotion when the taxi carrying the weapons was stopped: one FBI SUV pulled up in front of the cab and stops with a deafening screech. The helicopter simultaneously was directly above in the air, there was a SWAT car, numerous police cars, FBI agents on the ground with walkie-talkies. One would think this would have made more sense if the cab driver was truly at fault and aware of the weapons in the cab and knew that he was being followed by the law enforcement officers and was intentionally speeding to escape the contingent.
Kurbaan (Sacrifice)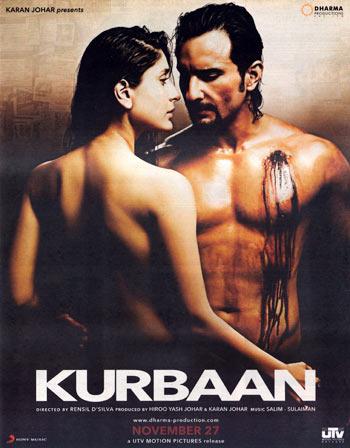 Kareena Kappor (left) and Saif Ali Khan in Kurbaan
While in India Avantika who is a Hindu marries Ehsaan a Muslim professor, after obtaining permission from a reluctant father who would have preferred a Hindu son-in-law. They move to the US where Avantika resumed teaching. Ehsaan, too, starts teaching: about Islam. Avantika learns that Ehsaan is a part of the terrorist group and wants to avenge the US bombing in Afghanistan and Pakistan. The other members of the group were Afghans living in the house across their home. When one of the Afghan girls, Salma, was being beaten by her husband outside their house at night, the only person to hear the screams was Avantika. Were their only two houses occupied in the neighborhood? Later she was murdered. Salma had warned Avantika that she is in danger and had divulged the name of a TV reporter, Rihanna. Avantika learns that a plane is to be blown up on which Rihanna is also traveling. She fails to contact Rihanna and so leaves a message on her office phone that her husband is also involved in the plot. The plane blows up and Rihanna is killed. Her reporter boyfriend, Riaz, listens to the message and instead of contacting the law authorities, takes it upon himself to bring the culprits to justice by joining them.
That's where Karan Johar's story falters. And the screenplay adds as many idiocies as the time permits. In today's internet savvy world, one would think that Ehsaan could have done a few minutes research and discovered who Riaz was. Since the TV reporter was killed, her reporter boyfriend must have been interviewed by TV, radio, and newspaper reporters. In spite of this, neither Ehsaan nor any of his accomplices had heard about Riaz before. Ehsan and Salma's husband are stopped by the police. Salma's husband was very tense and kills policemen. Unlike New York, there is no helicopter hovering above head and so Ehsan had enough time to kill Salma's husband, blow up the car, and escape. The end was the most ridiculous where they had a plan to blow up commuter trains.
After 9/11, there is no room for any clumsiness to carry out these kinds of acts. Many of the law enforcement agencies are working together and so the response is much faster.
My Name is Khan
Shah Rukh Khan (left) and Kajol in My Name is Khan
In My Name is Khan, the male protagonist who was suffering from asperger syndrome married Mandira, a divorcee with a child. Then 9/11 happened. The racist attacks which ensued claimed the child's life. In a fit of anger, Mandira asked Khan to leave. His enquiry about when to return back was answered thus: Go and see the President and tell that him that your name is Khan and you are not a terrorist.
The journey which took him through many states ended in success and he was reunited with Mandira. Undoubtedly, it is a feelgood movie, and the world does not operate like that. Nevertheless, it is done in a way which is bound to inform and educate many people. In that sense, this movie is going to have the greatest impact. And just for that, the faults can be overlooked.
Technically all the three films were quite good. Photography and acting was good, too. However, in Kurbaan, it is revealed eventually that Ehsan had previously had a wife and child who were killed in the US bombing in Pakistan. The director could have better established the inner anguish as a result of this by showing Ehsan in some private moments of grief. This could have been done tactfully with or without any flashbacks or disclosure that this was his second marriage.
One positive thing regarding these movies is that they show interfaith* marriages between Hindus and Muslims. In My Name is Khan, they also show the Muslim spouse praying to Allah and the Hindu spouse offering prayer to the Hindu god in the same room at the same time. This will have impact on some Muslims, including those in Pakistan. Pakistanis no longer have to watch Indian movies on Indian TV channels or DVD, now they could enjoy movies in theaters as they have resumed showing Indian films which were banned after the 1965 India/Pakistan war.
(In real life, Shah Rukh Khan is married to Hindu, whereas Kareena Kapoor, a Hindu, is Saif Ali Khan's girl friend.)
The FBI is prominent in these films. However, nobody mentions the Department of Homeland Security, the umbrella organization comprising of many agencies; the monster was the brainchild of the Bush Administration.
Bollywood has indeed woken up to tackle the 9/11 aftermath, but still seems in a dreamy state, and thus eludes total reality.
*(An excellent movie Ishqia has also shown the interfaith relationship. It is one step ahead. Two Muslim thieves fell in love with the same woman, a Hindu, and all three are happy with the arrangement.)
B. R. Gowani can be reached at brgowani@hotmail.com