by HEATHER DIGBY PARTON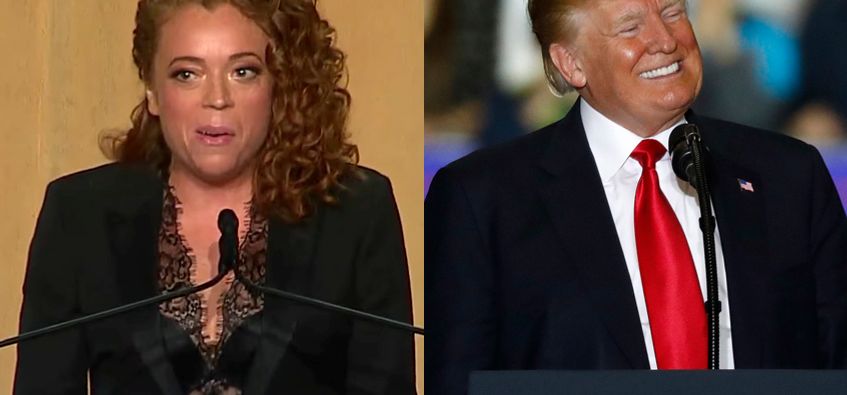 Michelle Wolf; Donald Trump PHOTO/AP/ABC News
Here's one thing Trump is right about: It's time to shut down this shameful, pompous D.C. bonding ritual
The annual "nerd prom," otherwise known as the White House Correspondents' Dinner (WHCD), was Saturday night. If we are lucky, it will be the last one. The entire event is inappropriate, and it has nothing to do with comedians being rude to the people in the audience or on the dais. After all, they are hired to do that. The whole tired ritual is based on the old tradition of the comedy "roast," where people get up and insult the guest of honor, which in the case of the correspondents' dinner, is the president and the D.C. establishment, including the press.
No, the event is inappropriate because it's an obnoxious suck-up to power, no matter who the president is or how edgy the comedian. The press and the politicians lining up on red carpets with Hollywood celebrities and yukking it up together, as if politics and government were just one big performance and this was their awards show, has always been an excellent illustration of everything that's wrong with our civic life. But in the age of Trump it's become downright decadent and disturbing.
This year's dinner seems to have hit quite a nerve. Comedian Michelle Wolf's comedy stylings were not appreciated by the press corps or the administration. She called the president and the White House staff liars, which is true, and pointed out that the media benefits from this surreal circus, which is also true. This bound both together in a way that clearly made everyone extremely uncomfortable, as it was meant to.
So now we have much clutching of pearls and rending of garments among members of the press, demanding apologies from Wolf for allegedly insulting Sarah Huckabee Sanders' looks (which Wolf did not do) and for comparing her to Aunt Lydia in "The Handmaid's Tale," which is as spot-on as you can get. (As New Yorker TV critic Emily Nussbaum pointed out on Twitter, "her job is *exactly* like Aunt Lydia: she is the frowning female enforcer for a fascist patriarchal society, punishing those who resist her lies.")
Anyway, Sanders has no right to be upset by any rude insults when she serves as an apologist for this man:
I heard poorly rated @Morning_Joe speaks badly of me (don't watch anymore). Then how come low I.Q. Crazy Mika, along with Psycho Joe, came..
— Donald J. Trump (@realDonaldTrump) June 29, 2017
…to Mar-a-Lago 3 nights in a row around New Year's Eve, and insisted on joining me. She was bleeding badly from a face-lift. I said no!
— Donald J. Trump (@realDonaldTrump) June 29, 2017
Wolf's jokes were sharp, to be sure, but they were nothing like that. I'm sure no one needs to be reminded of the president's daily assaults on the press and his political rivals, or anyone else who angers him. So the Trump administration calling for smelling salts over this routine is the biggest laugh line of the night.
Here's a typical example of the Beltway handwringing on Sunday morning.
Apology is owed to @PressSec and others grossly insulted ny Michelle Wolf at White House Correspondents Assoc dinner which started with uplifting heartfelt speech by @margarettalev – comedian was worst since Imus insulted Clinton's
— Andrea Mitchell (@mitchellreports) April 29, 2018
This is also part of the tiresome ritual, which seems to work itself into a full blown hissy-fit every few years. Mitchell is referring to the Radio and Television Correspondents' Dinner in 1996 where the comedian for the night was radio personality Don Imus, who rudely referenced the president's infidelities in front of Hillary Clinton and said that the Clinton administration's diverse cabinet looked like "the scene out of Star Wars." Hillary glared and Bill covered his face and everyone was very upset. The correspondents' association even sent the president and first lady an apology.
Salon for more