by DINA TEMPLE-RASTON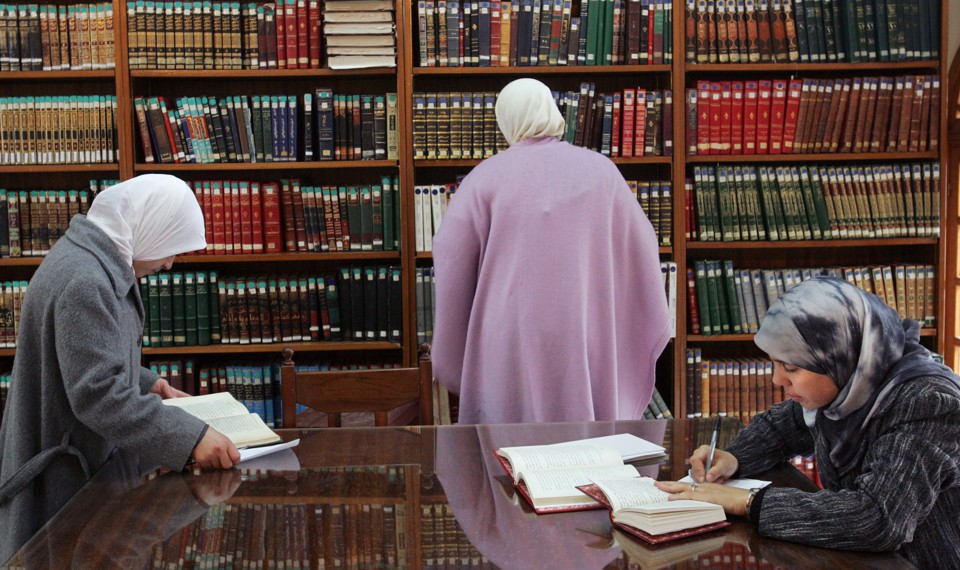 Moroccan students studying Islamic theology in Rabat PHOTO/Abdelhak Senna/AFP/Getty Images
"The women scholars here are even more important than men."
Morocco is in a region vulnerable to terrorist recruitment, but it hasn't had a significant attack on its own soil since 2011, when terrorists bombed a Marrakesh café. Yet ethnic Moroccans have been at the center of ISIS attacks in Europe. The only alleged survivor of the 2015 Paris rampage is a Frenchman of Moroccan origin; his trial began last week. The men behind the Brussels airport and tram bombings that happened months later were also ethnic Moroccans. The suspected driver of the van that mowed down shoppers in Barcelona was Moroccan-born.
Some 1,600 Moroccans are thought to have joined extremist groups, mainly ISIS, since 2012, with some 300 still fighting with ISIS, according to Moroccan Interior Ministry figures. Although these figures are low compared to, say, Tunisia's—some 7,000 Tunisians joined the group over the same period—the death toll in Europe has brought into focus the need for prevention and Morocco has come to play an outsized role in the debate over how, exactly, young people can be stopped from embracing radical Islam.
It's one of many countries around the world experimenting with various "countering violent extremism" (CVE) or de-radicalization programs. As Maddy Crowell noted in The Atlantic, "Germany, Britain, and Belgium have developed programs that focus on further integrating radicals into their community. Saudi Arabia, on the other hand, focuses on finding jobs and wives for recruited jihadists." But programs that reach people once they've already been radicalized might come too late. "The most effective kind of rehabilitation and reintegration is the rehab and reintegration that doesn't have to happen, because the person was afforded an off-ramp before they got to the point of no return," Nathan Sales, the coordinator for counterterrorism at the U.S. State Department, told me. "What does that look like? It looks like early intervention and not necessarily and maybe not ideally by government officials."
Early intervention spearheaded by local community leaders and groups, as opposed to government officials, was a focus of America's CVE approach under the Obama administration.
Atlantic for more