by JEMIMA PIERRE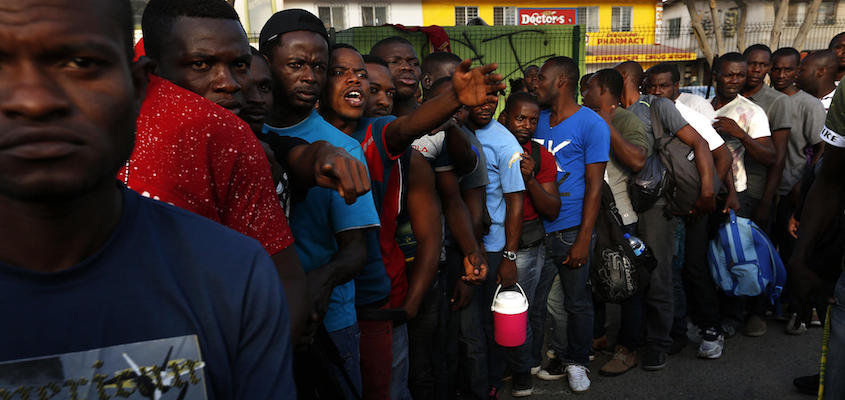 Haitian Detainees are Captive Capital for Private Prison Corporation
"When they cannot make more money out of us, then they deport us quickly."
My first trip to the GEO Group's Adelanto Detention Center, the privately-run prison facility located deep inland in Southern California's San Bernardino County, was to meet with a Haitian asylum seeker, Mr. Clement.[1] Mr. Clement had entered the U.S. from Mexico and had been in detention for nine months. Earlier that summer, he participated in a hunger strike that brought together Central American and Haitian asylum seekers demanding better treatment in Adelanto. It was through this strike that he and some of the other detained Haitian men had garnered some attention. And through a series of legal and activist connections—connections stretching from local immigration rights organizers through Florida, Haiti, and back to Los Angeles—I heard of Mr. Clement and faced, for the first time, the travesty of detention for Haitian immigrants and asylum seekers in Southern California.
Haitian immigrants and asylum seekers are a growing population within detention centers all over the U.S. Southwest. Numbers vary, but there are estimates of thousands of noncriminal Haitians incarcerated, with the largest population in Otay Mesa, Arizona. Haitian migration to these parts is relatively new, beginning with a trickle arriving early 2016 to thousands today. (Mr. Clement said that there were about thirty to fifty other Haitian men, as well as a small number of Africans, detained in his jail block. He was not sure of the numbers held in other blocks, or of how many Haitian women are being held in the women's wing of Adelanto.) This migration is also unusual. It reflects a new pattern for Haitian migrants, who originally traveled the direct route over the Caribbean Sea to the eastern U.S., and settled in metropolitan centers such as Miami and New York, cities with large Caribbean and African immigrant populations. This new pattern of migration means a more than 7,000-mile trek over land from Brazil through South and Central America, into Mexico and, finally, crossing one of the borders into the U.S. Southwest.
"This migration reflects a new pattern for Haitian migrants."
Mr. Clement's journey to the U.S. was not an easy one. But his story is similar to that of other Haitian migrants in Southern California. He left Haiti for the Dominican Republic and later traveled to Brazil. He was in Brazil for eight months, working odd jobs, barely surviving. Life in Brazil was precarious for Mr. Clement as it was for other Haitian men and women. Brazil, already known for its long history of anti-Black racism, was almost unbearable for Haitians, who are perceived as "too" Black, and often suffered racist violence.[2] Many Haitians have decided to leave Brazil, risking their lives to make the treacherous trek to the United States where they have family. Similarly, from Brazil, Mr. Clement traveled by land through Peru, Ecuador, Columbia, Panama, Costa Rica, Nicaragua, Honduras, Guatemala, and Mexico. The journey took more than three months, interrupted by arrests (for example, Nicaraguan officials arrested Haitians on site and jailed them for days) and a lack of funds. Occasionally, Haitian migrants would claim to be from an African country in order not to be harassed by officials in some Central American states. Mr. Clement spoke of the difficulty of the journey through Central America including having friends and fellow travelers die in the Columbian forests, drowning as they crossed rivers, or being robbed by local bandits. He said Honduras[3] provided something of a reprieve—a small community in Choluteca became one of the first groups to treat the Haitian travelers as family. Tijuana was the only other place in his travels where Mr. Clement felt he was treated with kindness.
Black Agenda Report for more