by AARON HICKLIN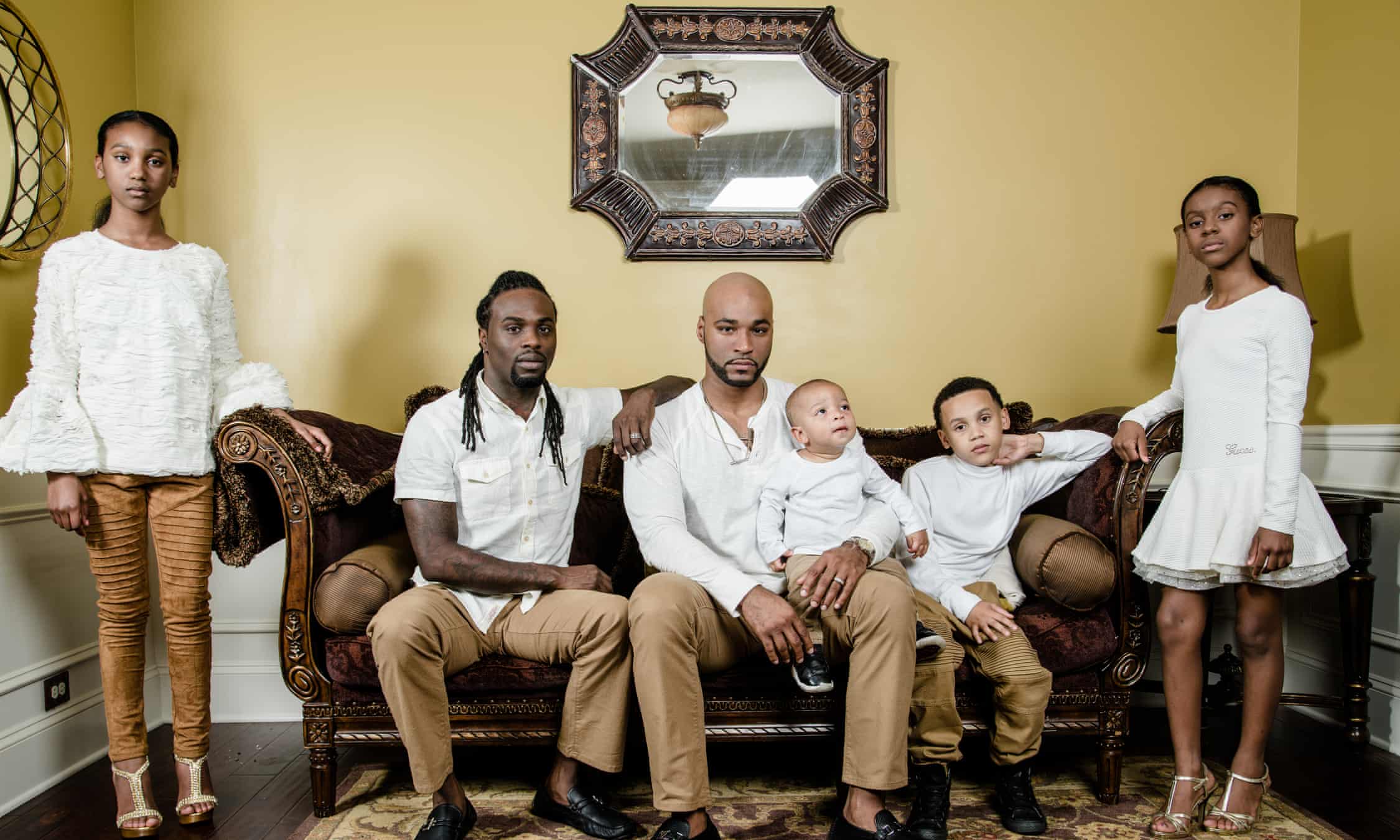 Picture perfect: (from left) Desmiray, Kordale, Kaleb, baby Caleb IV, Kordale Jr and Maliyah PHOTO/Raymond McCrea Jones/Observer
Kordale Lewis, Kaleb Anthony and their four children have taken social media by storm, creating an inspiring all-American family. Aaron Hicklin visits them in Georgia
Kordale Lewis has just returned from a late-night visit to the shops with his daughters, Desmiray, 11, and Maliyah, 10. Their large, grandly furnished home in the Atlanta suburbs is humming with anticipation of an imminent family trip to Paris. The girls have bought some accessories and Kaleb Anthony, Kordale's partner, is taking an inventory.
"What did you dress them in?" he asks. Kordale replies that he bought pink trousers to go with Maliyah's black flats and grey sweater. Kaleb is dubious: "Black flats with light colours?" Kordale ignores the provocation. "Desmiray is wearing black leggings with that sweater and her brown heels," he says.
Two black gay men clowning around with their kids is still an arresting image in 2017 as it's so rarely shown
Another grimace from Kaleb. "Black on top of brown?" Behind us, Desmiray is practising a model's snaking walk in her heels. Her fathers enrolled her in the Barbizon modelling school and have high hopes for her future career. She and Maliyah recently received video cameras in order to blog their journey into adolescence, and trailed one another around the Target store recording stray observations. This is a household profoundly comfortable with the social-media age.
Neither Kordale nor Kaleb have been to Europe – and this will be no ordinary family vacation. The two men and their four children are attending Paris Fashion Week as guests of Acne Studios – the avant-garde, often precious, Swedish brand that cast the family as the face of its latest campaign after spotting them on Instagram. The Acne images were shot by fashion faves Inez & Vinoodh, who have also photographed Lady Gaga and Barack Obama, among others.
One shot shows the family in the master bedroom, Kaleb resting on the bed, shirt pulled up around his neck to reveal his buff chest and tattoos, while Kordale stands in the foreground, balancing their youngest child, now aged one, on his shoulder. Their three other children, Desmiray, Maliyah, and Kordale Jr, nine, pose and pirouette on the bed behind Kaleb. It is not their first advertising campaign – in 2015 they were in a popular digital video for Nikon cameras– and the couple are determined to make sure it won't be their last.
The Guardian for more