by ARWA MAHDAWI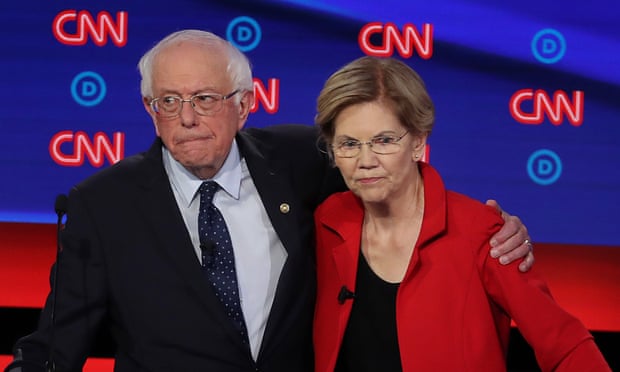 In a perfect world, this would be a non-story. Both Warren and Sanders have progressive records that speak for themselves
Is Bernie Sanders a sexist?
Is Elizabeth Warren a liar?
The Tuesday night Democratic presidential debate hasn't kicked off yet, but there's already been a heated pre-debate among the more progressive elements of the party about the details of a private conversation between Sanders and Warren. On Monday CNN reported that, during a 2018 meeting in Warren's apartment, Sanders said a woman wouldn't be able to beat Trump in 2020.
In a statement on Monday, Warren backed up the reporting, saying in a statement: "I thought a woman could win; he disagreed."
Sanders, meanwhile, has called the characterization of his statements "ludicrous".
"What I did say that night was that Donald Trump is a sexist, a racist and a liar who would weaponize whatever he could," Sanders said in a statement. "Do I believe a woman can win in 2020? Of course! After all, Hillary Clinton beat Donald Trump by 3m votes in 2016."
The Washington Post appears to have corroborated this version of affairs, noting that "one of the people with knowledge of the conversation said Sanders did not say a woman couldn't win but rather that Trump would use nefarious tactics against the Democratic nominee".
The Guardian for more