by LAURA PADDISON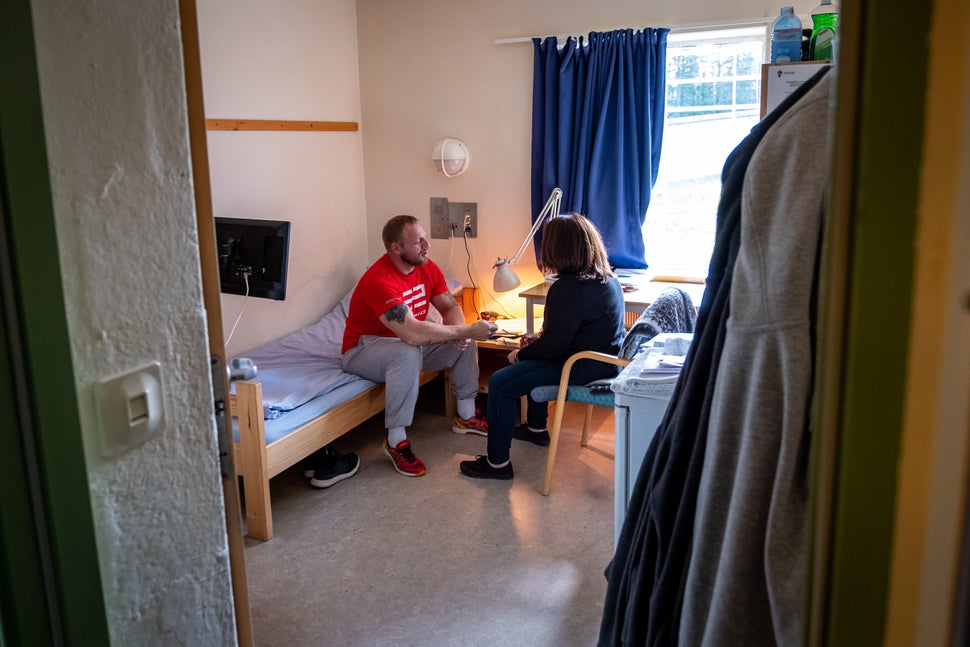 Ringerike, Norway? The bedroom, off a light-filled corridor, is small but not cramped. It houses a single bed, a desk, wardrobe, TV and a small bathroom. The window looks out onto a grassy hill. Outside the door, there's a kitchenette, where a bread knife hangs from a loop of string affixed to the wall. A long dining table is scrubbed clean, and a couple of shabby but comfortable-looking sofas have been arranged in front of a TV. The faint smell of stale cigarette smoke lingers in the air. 
The space has all the appearance of a college dorm; only a cluster of uniformed officers in a glass-walled office at the end of the hallway gives it away.
This is a wing of cells at Norway's Ringerike Fengsel, a high-security prison 40 miles outside the capital city Oslo. The squat building set within a grassy plot dotted with tall trees and cut through with winding pathways is surrounded by quiet, punctuated only by the sounds of seagulls.
This peaceful setting, the home comforts, the easily accessible knives are a far cry from the harsh steel and concrete standard in the American prison system.
"It's like Disney World compared to our prisons," said Donna Virgilio Mattia, a parole agent at Pennsylvania's SCI Chester, a medium-security state prison just outside Philadelphia that houses 1,270 men.
She, along with 13 other officers and administrators from SCI Chester and six researchers, have come to Norway to learn lessons from the country widely considered to have the best correctional system in the world.
Recidivism rates in Norway are among the world's lowest. Around 20% of those released from prison are arrested within two years. In the U.S., about 68% of released prisoners were arrested within three years.
The gap between the two countries narrows significantly when you look only at reincarceration (and ignore arrests) — Norway's rate is 25%, compared with 28.8% in the U.S.
But there's another important statistic to take into account: The percentage of the total population each country puts behind bars. While America jails 665 of every 100,000 residents, Norway's rate is less than a tenth of that ? just 63 of every 100,000.
These impressive figures are part of the reason that U.S. prisons and state correctional departments, from North Dakota to Oregon (and now Pennsylvania), have sent delegations to Norway to understand its success. And they're bringing back the lessons to American prison yards, as reform of the country's broken criminal justice system increasingly becomes a national talking point.
Huffington Post for more