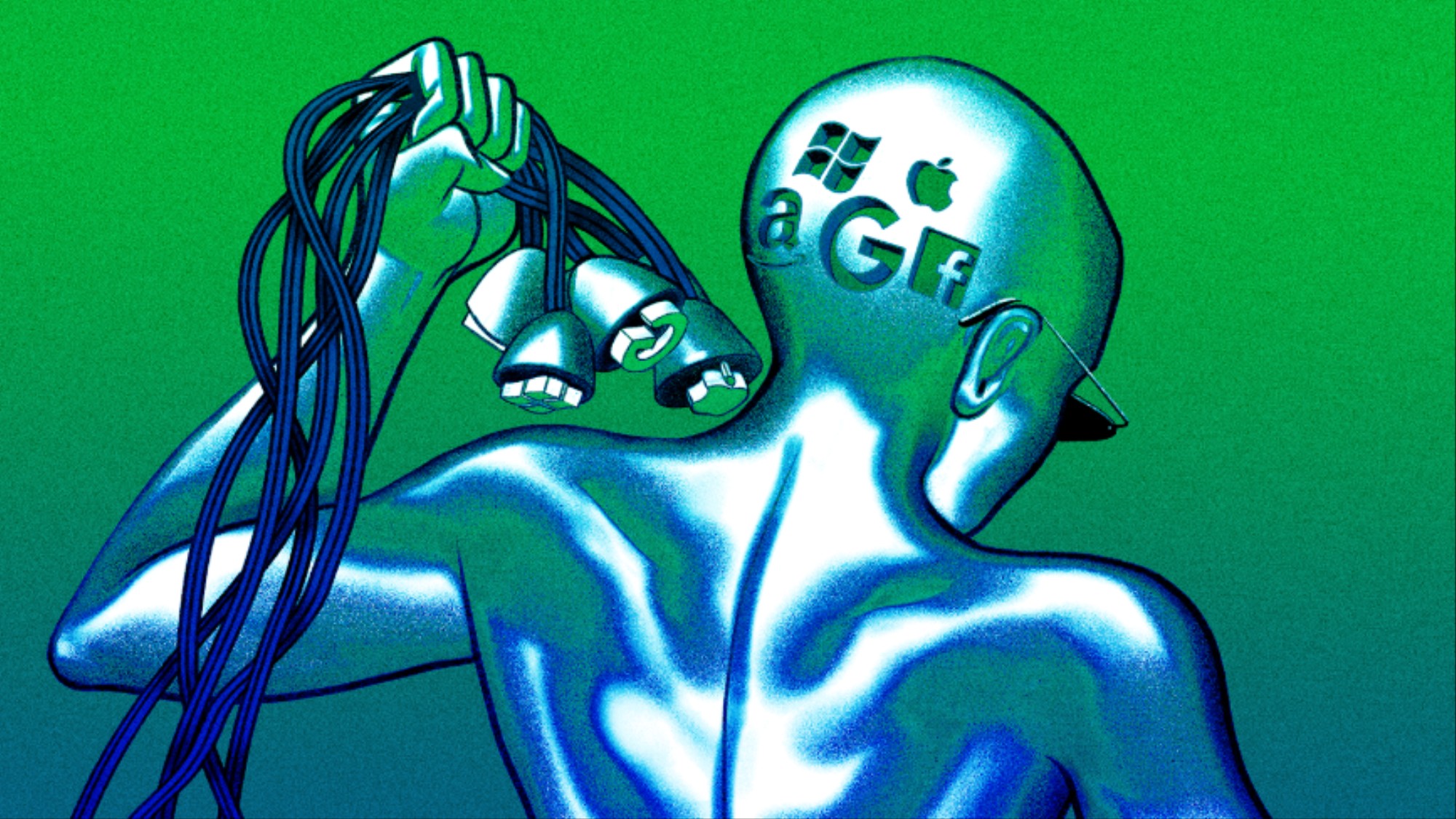 Plus: a how-to guide if you want to quit the biggest companies in tech.
SLAUGHTERHOUSE BIG FIVE:
EVERYTHING WAS UGLY AND NOTHING WORKED
It was just before closing time at a Verizon store in Bushwick, New York last May when I burst through the door, sweaty and exasperated. I had just sprinted—okay I walked, but briskly—from another Verizon outlet a few blocks away in the hopes I'd make it before they closed shop for the night. I was looking for a SIM card that would fit a refurbished 2012 Samsung Galaxy S3 that I had recently purchased on eBay, but the previous three Verizon stores I visited didn't have any chips that would fit such an old model. Advertisement
When I explained my predicament to the salesperson, he laughed in my face.
"You want to switch from you current phone to an… S3?" he asked incredulously.
I explained my situation. I was about to embark on a month without intentionally using any services or products produced by the so-called "Big Five" tech companies: Amazon, Apple, Facebook, Google, and Microsoft. At that point I had found adequate, open source replacements for most of the services offered by these companies, but ditching the Android OS, which is developed by Google, was proving difficult.
Most of the tech I use on a day-to-day basis is pretty utilitarian. At the time I was using a cheap ASUS laptop at work and a homebrew PC at my apartment. My phone was a Verizon-specific version of the Samsung Galaxy J3, a 2016 model that cost a little over $100 new. They weren't fancy, but they've reliably met most of my needs for years.
For the past week and a half I had spent most of my evenings trying to port an independent mobile OS called Sailfish onto my phone without any luck. As it turned out, Verizon had locked the bootloader on my phone model, which is so obscure that no one in the vibrant Android hacking community had dedicated much time to figuring out a workaround. If I wanted to use Sailfish, I was going to have to get a different phone.
I remembered using a Galaxy S3 while living in India a few years ago and liking it well enough. I ultimately decided to go with that model after finding extensive documentation online from others who had had success porting unofficial operating systems onto their phones. So two days and $20-plus-shipping later, I was in possession of a surprisingly new-looking Verizon Galaxy S3. The only thing that remained to do before loading Sailfish onto the device was to find a SIM card that fit. SIM cards come in three different sizes—standard, micro, and nano—and my nano SIM wouldn't fit in the S3's micro SIM port. Advertisement
By the time I explained all this to the Verizon employee, he had found a SIM card that would work. As he navigated the Android setup menu he asked me if I wanted him to link my Google account to the phone. "Oh that's right," he said, looking up from the phone and laughing. "Sorry, it's just a habit."
I could hardly blame him for the slipup. I'm probably the only person who has ever come into the store who didn't want to synchronize the Google services they use with their phone. It'd be senseless to resist that kind of convenience and Google knows this, which is why Android prompts you to enter your Google credentials before you've even reached the phone's dashboard for the first time. But what I wanted to know is whether there was another way.
By now, it's common knowledge that Google, Facebook, and Amazon are harvesting as much of our personal data as they can get their hands on to feed us targeted ads, train artificial intelligence, and sell us things before we know we need them. The results of this ruthless data-driven hypercapitalism speak for themselves: Today, the Big Five tech companies are worth a combined total of $3 trillion dollars. When I started my month without the Big Five in May, Google's parent company Alphabet, Amazon, and Apple were racing to be the first company in history with stock worth $1 trillion. In August, Apple became the first to reach this milestone and just a few weeks later Amazon's market cap also briefly passed $1 trillion.
Vice for more