by B. R. GOWANI
"While the area was put under strict security cover, it did not stop groups of kar sevaks from breaking barriers to reach the top of the mosque. The demolition took place right in front of BJP leaders like Murli Manohar Joshi, LK Advani and Uma Bharti who were at a dias set up for them." PHOTO/TEXT/Getty Images/Robert Nickelsberg/Liaison/Huffington Post
"On December 6, 1992 a rally in favour of building a Ram Temple on site of the Babri Masjid in Ayodhya went horribly wrong. Organised by the BJP, VHP and other affiliated organisations, it resulted in the demolition of the mosque and led to riots across the country that killed more than 2000 people." PHOTO/TEXT/Douglas E. Curran/AFP/Getty Images/Huffington Post
some Indian Hindus complained about India's problems
the cause of problems they pointed out were "Muslims"
who make up a little over 14% of the population
I asked will India become a heaven if it didn't have Muslims
the answer was in the affirmative
I said this is your fantasy
because if Muslims left India, Hindu extremists will go after Dalits
after the Dalits, it will be another group … and so on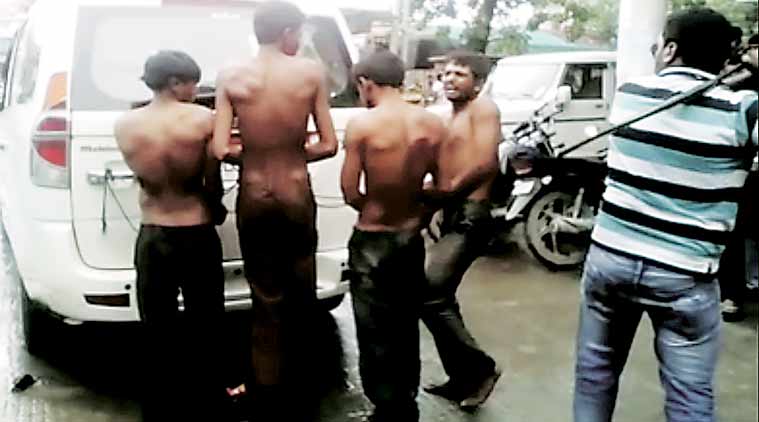 July 11, 2016 in the Indian state of Gujarat. "Some 35 gau rakshaks attacked 7 Dalits in Mota Samadhiyala village of Una taluka in Gir Somnath district, accusing them of slaughtering a cow. Beat them with iron rods and sticks, kidnapped four Dalits and took them to Una, tied them to a car and flogged them publicly through the town. 7 Dalits were admitted to hospital. 5 gau rakshaks and a mob of 35 booked for attempt to murder and for subjecting SCs to atrocities. 31 persons, including two minor boys, held. Dalits have said they were merely skinning a dead cow." PHOTO/TEXT/The Indian Express
this mentality is not restricted to Indian Hindus
it has become an international phenomenon
the communalism, racism, bigotry
show up around religion, color, caste, gender, sexual orientation, …
the Pakistani Sunni Muslims suffer severely from this
so do the racist Trump and his supporters
Buddhists in Myanmar (Burma) victimize the Rohingyas
one can go on and on …
religious/ethnic minorities are now the target of hostility
the majority communities vent their hatred with glee
in 1933, future Indian PM Jawaharlal Nehru had ominously warned:
"The communalism of a majority community
must of necessity bear a closer resemblance to nationalism
than the communalism of a minority group."
85 years later, the quote remains true
when will things change?
when will racism, communalism and bigotry end?
???
B. R. Gowani can be reached at brgowani@hotmail.com