by FLEUR MACDONALD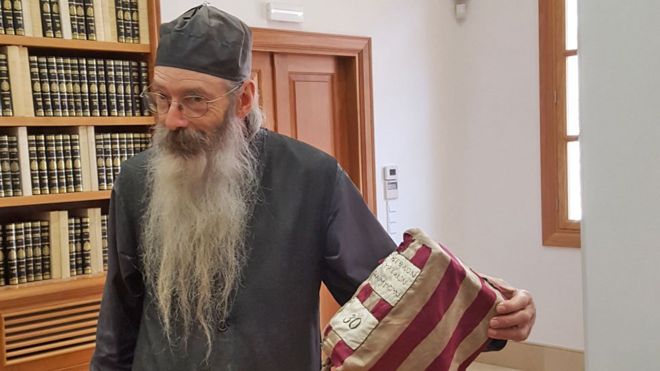 Fr Justin is helping to share online the historic manuscripts in an ancient Sinai monastery
For a monk who lives in the Sinai desert in Egypt, in the world's oldest working monastery, Father Justin replies to emails very speedily.
It should come as no surprise: the Greek Orthodox monk is in charge of hauling the library at St Catherine's into the 21st Century.
This ancient collection of liturgical texts, including some of the earliest Christian writing and second in size only to the Vatican, is going to be made available online for scholars all over the world.
The manuscripts, kept in a newly-renovated building which was opened to the public in December 2017, are now the subject of hi-tech academic detective work.
East meeting West
A team of scientists and photographers working alongside Fr Justin has been using multi-spectral imaging to reveal passages hidden beneath the manuscripts' visible text.
These include early medical guides, obscure ancient languages, and illuminating biblical revisions.
Among the researchers is Michelle P Brown, professor emerita of medieval manuscript studies at the University of London.
She was convinced from earlier visits that she could challenge the mainstream thinking that there had been little face-to-face contact between the far West and the Middle East between the 5th Century and the crusades in the 12th.
The oldest known copy of the gospels in Arabic – or rather what lay beneath it – proved her right.
At least 170 of the 4,500 manuscripts in the collection are recycled manuscripts, known as palimpsests.
Industrious monks often had to resort to scrubbing the ink off neglected tomes before reusing the parchment.
Although the manuscript examined by Prof Brown had been discovered in 1975, it is only now that scholars have been able to distinguish the different layers using a variety of light waves. Before they relied on the naked eye or corrosive chemicals.
Computer analysis of pages
Now, each page is photographed 33 times using 12 different wavelengths. The images are analysed using computer algorithms, and several images are combined to make the undertext more legible.
If this doesn't yield results, the page is analysed using statistics: each pixel is assigned a value, separated into categories, then manipulated according to those categories to make that selection more visible to the human eye.
BBC for more