by Stephen Chen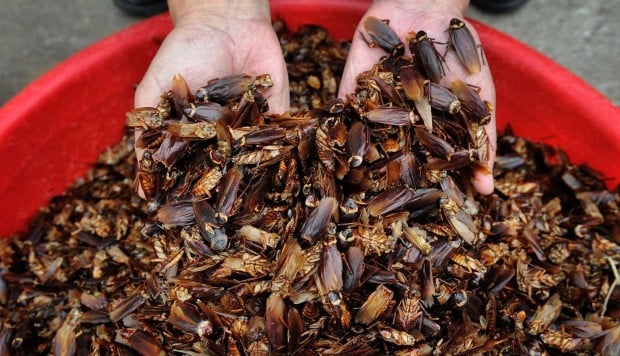 The Post turns a spotlight on the 'disgusting' insect with apparently remarkable medicinal qualities at the world's largest breeding facility, where the bugs outnumber the planet's human population
Long, narrowly spaced rows of shelves fill a multi-storey building about the size of two sports fields. The shelves are lined with open containers of food and water.
It is warm, humid and dark all year round, with freedom to roam to find food and reproduce. Fully sealed like a prison, it has strict limitations on access to visitors. From birth to death, inhabitants never see the sun.

'They're like my children': The woman who keeps 100,000 cockroaches in her home
The world's largest cockroach farm is breeding 6 billion adult cockroaches a year and using artificial intelligence to manage a colony larger than the world's human population – all for medicinal use.
It is part of the production process for a "healing potion" consumed by millions of patients in China, according to the government.
There are many cockroach breeding facilities in China, for use as an ingredient in medicine or as a source of protein for livestock feed. But no other facility can match the productivity of the farm in the city of Xichang, in southwestern Sichuan province.
Nearly 28,000 full-sized cockroaches per square foot are produced there annually, the Sichuan government said in a report submitted to Beijing early this year.
It is the first time in history so many cockroaches have been confined and bred in one space. The project had achieved so many "scientific and technological breakthroughs" that it deserved a national science award, the provincial government said.
It's no gag: cockroach milk is one of the world's most nutritious and calorie-rich substances, scientist says
The facility achieved its unrivalled efficiency partly by being controlled by a "smart manufacturing" system powered by artificial intelligence (AI) algorithms, according to the report.
The system constantly collects and analyses more than 80 categories of "big data", including humidity, temperature, food supply and consumption. It monitors changes such as genetic mutations and how these affect the growing rates of individual cockroaches.
AI is transforming China in many sectors, from powerful facial recognition systems capable of identifying 1.3 billion citizens in seconds to nuclear submarines that can help a captain make faster, more accurate decisions in combat.
In the cockroach farm, the AI system learns from past work, self-adjusting to improve cockroach production.
Meet the roachbot: scientists hope crushable robotic insects may help in disasters
Dr Zhang Wei, former assistant researcher at the College of Mechanical Engineering at Zhejiang University, who was involved in the development of the system, told the South China Morning Post: "There is nothing like it in the world. It has used some unique solutions to address some unique issues."
Rustling in the darkness
Zhang confirmed the use of AI technology in the project but declined to give details.
The farm is operated by the Gooddoctor Pharmaceutical Group of Chengdu, Sichuan, which confirmed the validity of the government document but could not answer the Post's queries because the matter involved trade secrets.
According to a 2011 report by the government newspaper Guangming Daily, a visitor must change into a sanitised working suit to avoid bringing in pollutants or pathogens.
South China Morning Post for more