by B. R. GOWANI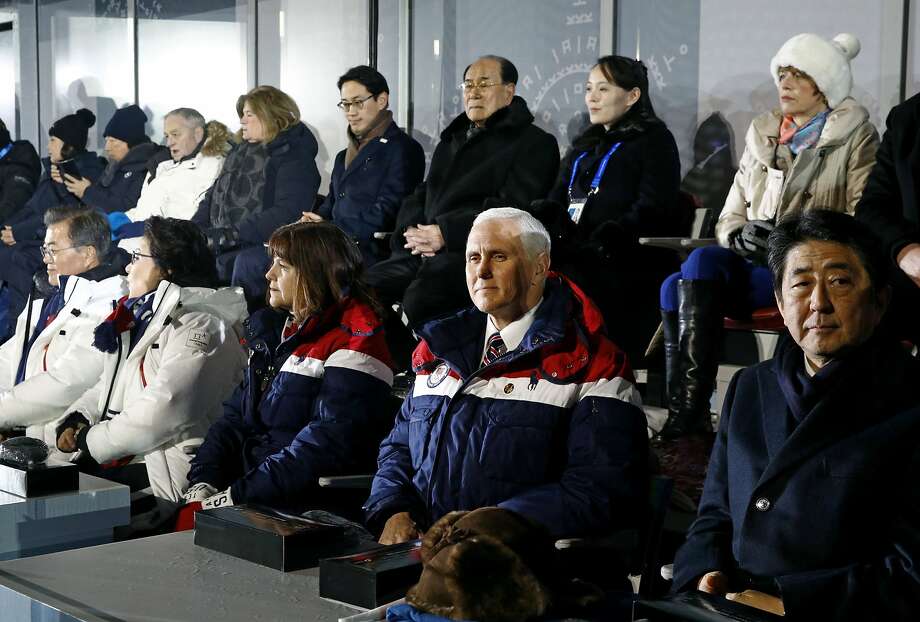 (Front row, from left) South Korea's President Moon Jae-in, First Lady Kim Jung-Sook, United States second lady Karen Pence, US Vice President Mike Pence, and Japanese Prime Minister Shinzo Abe. (Back row, third from right) President of the Presidium of North Korean Parliament Kim Yong Nam and (to his left) is Kim Yo Jong, sister of North Korean leader Kim Jong Un. The photo shows them watching the opening ceremony of the 2018 Olympic Winter Games in Seoul, South Korea. PHOTO/San Francisco Gate
Teams of South and North Koreas march together at the 2018 Olympic Winter Games PHOTO/Business Insider
US openly exhibits public loathing for North/South Korean attempts at improvement of relations
The US Vice President while in South Korea for the 2018 Olympics Winter Games avoided meeting or shaking hands with Kim Yo Jong, sister of North Korean leader Kim Jong Un, or with Kim Yong Nam, President of the Presidium of North Korean Parliament.
Pence's time in South Korea was a golden opportunity to deflate the rising tensions between the United States and North Korea; it could also have allowed both Koreas to explore the possibility of reunification or at least to develop more friendly relations and bring the people of both countries closer.
It became evident the US had an agenda to keep both Koreas in a state of conflict so it could keep its 83 air and naval bases in operation and its presence of 23,468 troops. Just 133 miles (214 km) southeast of Korea, in Japan the US has 112 naval/air bases with 39,345 people. Japan has allowed US bases and US forces since 1945 when the US occupied Japan in the final months of the Second European Global War. The US forces and bases in South Korea have been in operation since 1957.
President Moon Jae-in of South Korea tried to bring the US and North Koreans closer but Pence displayed open hostility and narcissistic tendencies like his boss Donald Trump by not standing when the unified Korean team entered the stadium. On the day of the opening ceremony, Pence exposed his inner venom:
"The simple truth is that the time has come for North Korea to permanently abandon its nuclear and ballistic missile ambitions, to recognize there is no future as a member of the family of nations for a nuclear-empowered North Korea."
North Korea has seen the fate of Saddam Hussein and Muammar Gaddafi. It has also witnessed the use of biological weapons by the United States during the Korean War (1950-1953).
B. R. Gowani can be reached at brgowani@hotmail.com