By JESSICA HORN & DR. SIONNE NEELY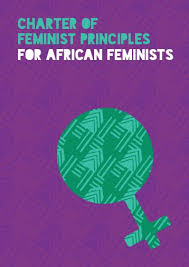 African feminisms are now attracting global attention, with a number of feminist writers finding wide circulation in western media, and through activist intervention on social media channels. These individual voices signal the presence of diverse African feminist movements which have shaped transformative gender politics in the African region for generations. It is these legacies of feminist struggle that are vocalized in the new film series Voice, Power and Soul: Conversations from the 4th African Feminist Forum shot at the fourth regional meeting of the African Feminist Forum in Harare, Zimbabwe in April 2016. The series features interviews with 28 feminists from 13 African countries, interspersed with footage from the forum itself.
The African Feminist Forum was launched by African feminist activists in 2006 at its first regional gathering in Accra, Ghana. The impetus in founding the AFF was to provide a space that was missing at the time in continental women's movements: a regional platform with an explicitly and collectively agreed feminist politics inclusive of an appreciation of sexual diversity and defence of reproductive choice, a critique of the use of religion and culture to oppress women, and naming a collective as well as personal feminist ethics. These points may seem minor to external observers, however in African women's organizing these issues remain lines on which women's political solidarity falters. In the African Feminist Forum, former liberation fighters engage with 20-something queer activists; photographers and poets co-convene discussions with academics, lawyers and parliamentarians; feminist theologians, secularists and traditional healers eat together, and everybody (yes, everybody) dances.
…
The series Voice, Power and Soul: Conversations from the 4th African Feminist Forum adds another layer to this documentation, featuring what is likely to be, the largest and most diverse set of interviews with African feminists on film to date. Women in the series speak to game-changing political moments and alliances and stories of activism unearthed from pan-African feminist research. They also offer analysis of contemporary feminist struggles by the women who have bravely helped shape them. These include reflections from Mariam Kirollos, co-founder of Operation Anti-Sexual Harassment and Assault a rapid-action initiative set up in response to attacks on women protestors during commemorations of the Egyptian revolution. Kasha Jaqueline Nabagesera recalls the growth of the LGBTI rights movement in Uganda and the early and consistent solidarity that feminists in the Uganda Feminist Forum offered – a point often erased from accounts of activism against the infamous Anti-Homosexuality Bill. Academics Amina Mama, Sylvia Tamale, Ayesha Imam and Pumla Dineo Gqola- foundational thinkers in African feminist theory- speak with a movement voice about their politics and practice. Kenyan researcher and translator Wangui wa Goro, known for her translations of African writers Ngugi wa Thiong'o and Veronique Tadjo – explores the complexity of gender identity and family culture. Senegalese disability right activist and writer Aissatou Cissé encourages young feminists to expand the movement in resistance to continuing imbalances in the way that African girls and women and treated in comparison to boys and men. The youngest voice in the series, Âurea Mouzinho, reflects on the need for a collective revival of feminist organising in Angola (after leaving the 4th AFF her and fellow Angolan participant, Sizaltina Cutaia, went on to co-found the Ondjango Feminista – the Angolan Feminist Forum).
The Feminist Wire for more