by B. R. GOWANI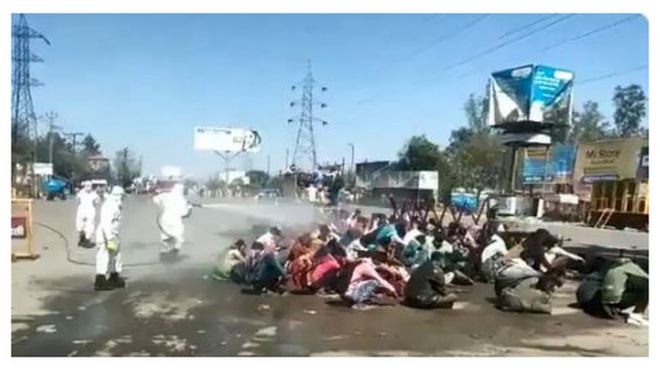 United States
USS Theodore Roosevelt
Navy Capt. Brett Crozier of the aircraft carrier USS Theodore Roosevelt, which also has a nuclear power plant, pleaded in the four page letter to his superiors to save crew members because some of them had contracted Coronavirus.
"This will require a political solution but it is the right thing to do." "We are not at war. Sailors do not need to die. If we do not act now, we are failing to properly take care of our most trusted asset — our Sailors."
Crozier was unceremoniously fired.
The US which has so many weapons of mass destruction that it could kill all kinds of life on our planet many times over, has not enough ventilators, N95 Masks, PPEs (personal protective equipment) to take care of its healthcare workers, let alone the general population. For people in the United States, Coronavirus is actually a Trump virus due to this administration's serious blunders. Besides, Trump has not imposed a US-wide lockdown; so the states are handling it in their ways. The Democratic governors are opting for a total lockdown whereas Republican governors are not all for lockdown. Some, as Arizona, imposed a lockdown March 30, but then declared barber shops and hair salons as "essential" services. This is the peak of idiocy because both these businesses are conducted in close proximity.
States on their own
In January 2017, Donald Trump started his presidency with a loud bang of MAGA or Make America Great Again. After more than a three-year misrule of his presidency, the US greatness is starkly visible. The central government, which woke up to the severity of the Corona virus a couple of month too late, still refuses to coordinate efforts to contain it on a federal level. Even gravity of the current situation won't deter Trump demanding sycophancy from governors if they want any supplies for their states from the federal government. The irony is that things sent by Trump are, in many instances, not functioning properly or are the wrong ones.
California's Governor Gary Newsom received "170 broken ventilators" from Trump which he had to get fixed from a private company in California before they could be used.
The State of Illinois needed the N95 respirator masks but were supplied surgical masks instead. Governor J. B. Pritzker lamented the Washington inefficiency:
"I can't emphasize enough how much we need the federal government to step up and amplify the size of their (personal protective equipment) deliveries to Illinois and, frankly, across the nation."
New York Governor Andrew Cuomo asked Trump for 30,000 ventilators and was handed just 400!
Basically, the states are left to cope with the crisis on their own. New York Governor Andrew Cuomo's exasperation gives a clear picture of the totally broken system.
"It's like being on eBay with 50 other states, bidding on a ventilator." "I mean, how inefficient. And then, FEMA gets involved! And FEMA [
Federal Emergency Management Agency] starts bidding! And now FEMA is bidding on top of the 50 [states]. So FEMA is driving up the price. What sense does this make?"
Massachusetts Governor Charlie Baker after getting in touch with various embassies and others was able to get 1.2 million N95 masks through China in a plane belonging to the New England Patriots, a football team.
MyPillow missionary
Times have changed and so has Trump. There was time when Trump was busy arranging beauty pageants, mingling with and ogling contestants, going out to dinner with some of them, and so on. Nowadays, Trump introduces corporate executives at his daily briefings. The pageant of the corporate beasts give Trump pleasure and boosts his ego. CEOs highlight what their companies are doing or will do to help government combat the Corona virus. The pandemics are profitable too. On January 30, 2020, he introduced the MyPillow CEO Mike Lindell. After the usual bullshit, Lindell made a detour towards Trump's ass for licking and spreading Christianity:
"God gave us grace on November 8, 2016, to change the course we were on." "God had been taken out of our schools and lives. A nation had turned its back on God. I encourage you to use this time at home to get back in the Word, read our Bibles and spend time with our families."

"[The president] gave us so much hope." "With our great president, vice president and this administration and all the great people in this country praying daily, we will get through this and get back to a place that's stronger and safer than ever."
Enough nausea and vertigo generated by Lindell, the pillow company CEO!
India
Modi acts Mountbatten
In June 1948, Lord Louis Mounbatten, the last Viceroy of India, changed the date of India's independence from June 3, 1948 to 14/15 August 1947. A nation of 400 million people was divided into India and Pakistan within three months with over a million deaths and over 10 million refugees.
Indian Prime Minister Modi works in the same fashion. In November 2016, he demonetized 500 and 1,000 rupee bills at a short notice resulting in a great financial and economic distress for people. This time again he did the same thing: with a notice of four hours, he ordered lockdown of India on 24th March 2020.
India is a country of 1.3 billion people with vast inequality, immense poverty, and a weak welfare system. There is a vast number of people who earn their livelihood as migrant workers – that is, people from one state working in another state. The sudden lockdown created great problems for these migrant workers because the loss of work left them without any income or a place to live forcing them to go back to their villages. Many started walking back either due to lack of transport or money.
One of the workers Ranveer Singh died while walking back to his family. His last words to his family members were:
"Lene aa sakte ho toh aa jao (Come get me if you can)."
A husband and a wife with two children and a huge bag are on their feet to cover a distance of 150 kilometers (90 miles). Many of the people are without food or water but have to continue the journey. (Watch the videos here and here.)
Then you have the police beating and harassment. Many of the people were made to crawl by the police because they were out during the lockdown. But these people had no other option then going back to their home towns and villages because prolonging their stay in the places they were working starve them to death before they contract the Corona virus. (Watch the video here.)
(Brigadier-General R.E.H. Dyer, known as "the Butcher of Amritsar," in 1919 ordered Indians to walk "on all fours," his words, during their agitation for freedom.)
Many of the workers upon reaching India's most populated state Uttar Pradesh, ruled by a monk, a Hindu nationalist rogue, were ordered to squat and were doused with "chemical solution." (Watch the video here.)
B. R. Gowani can be reached at brgowani@hotmail.com