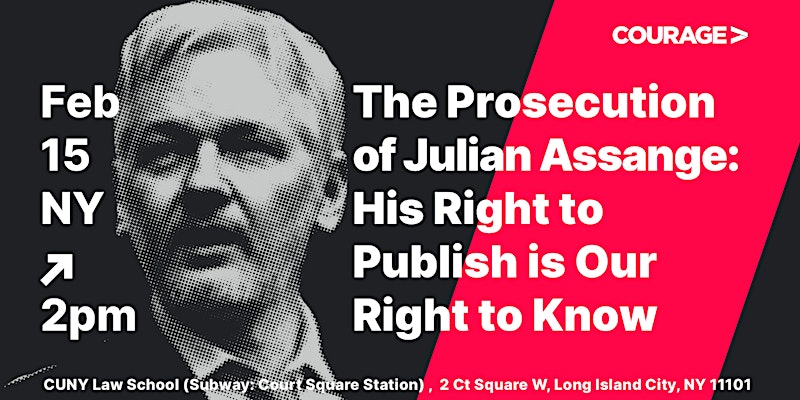 A panel of experts will confront the dangerous consequences of the US government prosecuting Julian Assange under the Espionage Act of 1917.
About this Event
Leading journalists, attorneys, and human rights defenders will hold a panel discussion just weeks before the extradition trial of WikiLeaks founder Julian Assange, who if sent to the United States would face the first ever charges of Espionage for the publication of truthful information in the public interest. If the Trump Administration can imprison a foreign publisher for life for exposing war crimes, what can't it do? And is the New York Times next? These esteemed speakers will consider these questions and what we can do to protect the First Amendment.
Speakers:
Jim Goodale, former NYT General Counsel
Renata Avila, human rights attorney
Glen Ford, executive editor, Black Agenda Report
Max Blumenthal, journalist, The Grayzone
New video statements from:
Noam Chomsky
Alice Walker
Daniel Ellsberg
Moderator:
Idalin Bobé, founder of TechActivist.org
The Courage Foundation is an international whistleblower support network, campaigning for the public and legal defense of Julian Assange and WikiLeaks at defend.wikileaks.org.
Sponsored by FAIR, National Lawyers Guild-NYC, NYC Free Assange, Big Apple Coffee Party, OR Books
Click here for map: A short walk from the Court Square Subway Station (7 train, E train, G train)
EventBrite for more