by ANN GARRISON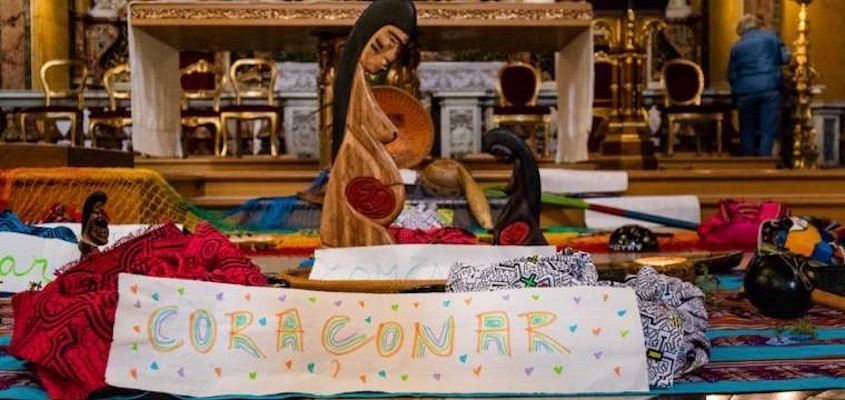 The violent coup in Bolivia may have been presaged by events at the Vatican, where right-wing Catholics rebelled against the Pope's display of respect for the indigenous earth goddess.
"A fundamentalist Austrian Catholic entered the Church of Santa Maria Traspontina in the dark of night and stole the five wooden Pachamama statues."
On November 14, Bolivian coup leader Luis Fernando Camacho, a white Evangelical Christian fascist millionaire, stormed Bolivia's government palace with his pastor, who pronounced that "Pachamama will never return to the palace," and "Bolivia belongs to Christ."
This might at first seem strange because 75% of Bolivia's people identify as Roman Catholic, but it's largely a syncretic Catholicism, a blend of both Catholic and indigenous religion which includes Pachamama, the Andean and Amazonian earth goddess. Pachamama is symbolized as a naked, pregnant woman kneeling with her arms protectively wrapped around the child in her womb, and her head turned to the earth as though in meditation or prayer.
Pachamama had suffered violence and desecration in the Vatican just two weeks before the coup, but in that case Pachamama prevailed, though not as definitively as the liberatory wing of the Church might have liked. Here's a brief, far from conclusive, chronology of events leading up to the ongoing standoff:
January 2015: Evo Morales says, "I remain convinced that we Bolivians have a double religion, double faith. We are Catholics, but at the same time we have rituals of our own."
July 2015
Pope Francis II, an Argentinian, visits Bolivia. He meets with indigenous organizations and peoples in traditional dress, and asks them to forgive the Roman Catholic Church's sins during "the so-called conquest."
He drinks coca leaf tea while on a plane flying into the Andes. (There had been much speculation as to whether he would drink coca tea or chew coca leaves, the base for cocaine, which Bolivians chew to counter altitude sickness and other maladies. When chewed or used to make tea, coca leaf is a mild stimulant somewhat like coffee. President Evo Morales is a former coca farmer.)
Pope Francis criticizes capitalism, as he has before, and calls for the downtrodden to create a new world order.
He denounces the "new colonialism" of agencies like the IMF and the World Bank that impose economic austerity, and he calls for the poor to have the "sacred rights" of labor, lodging and land.
He warns that time is running out to save the planet from irreparable harm, as he has before.
During the same visit, President Evo Morales presents Pope Francis with a carved wooden crucifix mounted on a hammer and sickle. Press report that the Pope seems a bit surprised, but not offended.
The Pope's visit wins praise from the church's liberation theologists, condemnation from its fundamentalists.
October 2019
October 2—27 Pope Francis hosts the Synod of Bishops for the Pan-Amazon region, a three-week conference in Vatican City, the independent city state within Rome where the Pope is sovereign. Bolivia includes both Andean and Amazonian climes, but it is identified as Amazonian for the purposes of this conference, as are Brazil , Colombia , Ecuador , French Guiana , Guyana , Peru , Venezuela and Suriname . Not only bishops but also Catholics representing their countries and indigenous peoples attend the synod.
There are a list of issues to be discussed including the ordination of married priests and the appointment of women as deacons, ordained ministers of an order ranking below that of priest. The central themes, however, are combating climate change and protecting indigenous peoples.
BAR for more