by IAN SAMPLE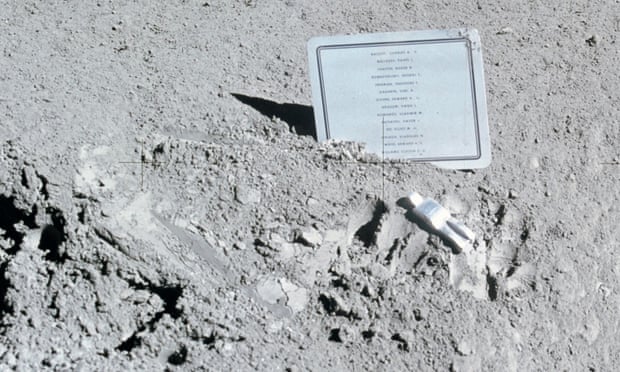 After 50 years of exploration, the lunar junkyard holds nearly 200 tonnes of objects
More than half a century of lunar exploration has left its mark on the moon. What Edwin "Buzz" Aldrin described as the "magnificent desolation" of the relentlessly grey surface is littered with clapped-out robots, spacecraft parts, moon buggies (including one with a bible on the dashboard) and technical equipment.
Scattered around the Apollo landing sites are other items that were never meant to come home: a falcon's feather, a javelin, bags of human waste, a family photo and an aluminium figure, the Fallen Astronaut, which lies on its side near a plaque bearing the names of 14 men who died in the pursuit of space exploration.
In all, the lunar junkyard holds nearly 200 tonnes of human objects. The dusty remains of five Saturn V rocket stages from the Apollo missions are the heaviest single items. Then there are the wreckages of spacecraft that smashed, or were crashed intentionally at the end of their missions, into the lunar surface. There are a dozen 1960s Soviet Luna probes; nearly twice as many US Rangers, Lunar Orbiters, Surveyors and more recent observatories; at least four Japanese spacecraft, and other robots sent from Europe, China and India. In April, the mangled remains of the first private moon mission, Israel Aerospace Industries' Beresheet probe, became the latest addition when the lander's gyroscopes failed.
The Guardian for more